An exhibition is being organised at the walking space around Hoan Kiem Lake and around the area of King Ly Thai To Monument, displaying handicraft products, souvenirs and products of traditional villages.
The products are on display at booths which are designed in the shape of waves on the Red River.
The exhibition area is divided into many cultural spaces introducing products and applications of traditional crafts such as embroidery and fashion design; ceramic, wooden and lacquer products; and outstanding goods from the One Commune, One Product (OCOP) programme.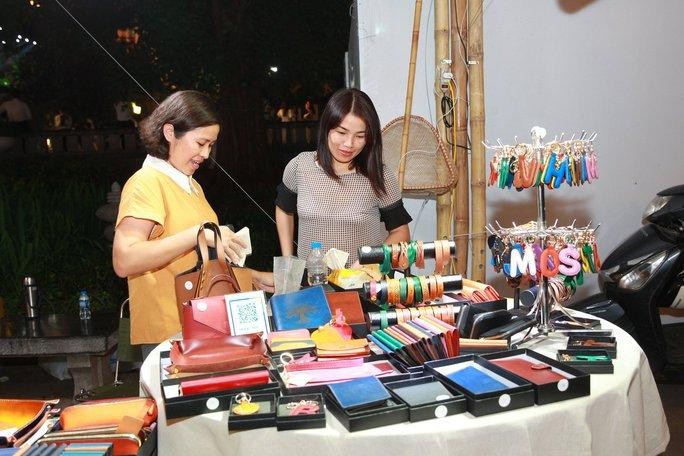 Visitors at an exhibition entitled 'Sustainable Design Space'. (Photo: nld.com.vn)
Meanwhile, the Hanoi Information and Exhibition Centre at 93 Dinh Tien Hoang Street, Hoan Kiem District, is hosting an exhibition entitled 'Sustainable Design Space'.
The event introduces innovative design ideas towards the development of products made from natural and recycled materials, with fashion designs inspired by cultural traditions.
On November 15, more than 100 delegates from state management agencies; trade, tourism, and investment promotion agencies as well as researchers and designers, businesses, and craft village artisans will gather at a seminar entitled 'Experience in designing and developing Hanoi craft village products'.
Participants will discuss ways to support businesses and production facilities in craft villages in improving their product designs, improve competitiveness, and work towards the sustainable development of Hanoi's craft villages.
According to HPA Deputy Director Nguyen Thi Mai Anh, the activities are expected to send a message of connecting tradition with modernity, encourage designers, manufacturers and businesses to pay more attention to promoting their creativity in order to add more value and raise the competitiveness of their products.