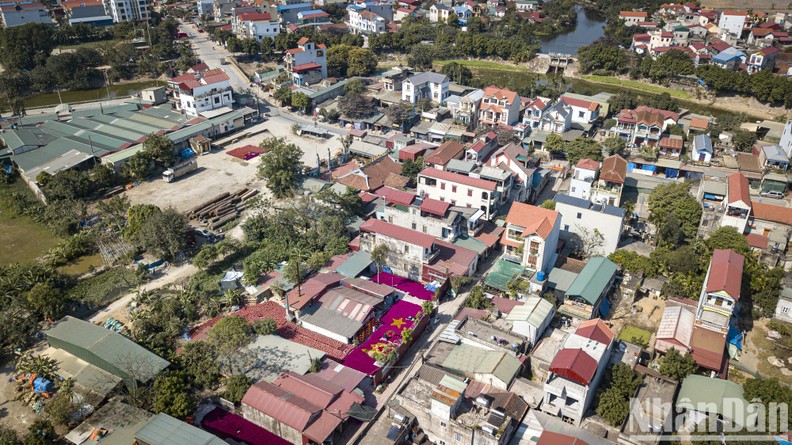 Located in Ung Hoa District, 35 kilometres from downtown of Hanoi, Quang Phu Cau Village is famous for its century-old craft. The village is bustling throughout the year but is most exciting in the days near Tet. The red colour of the incense seems to be more brilliant in the sunlight, attracting the eyes of any visitors.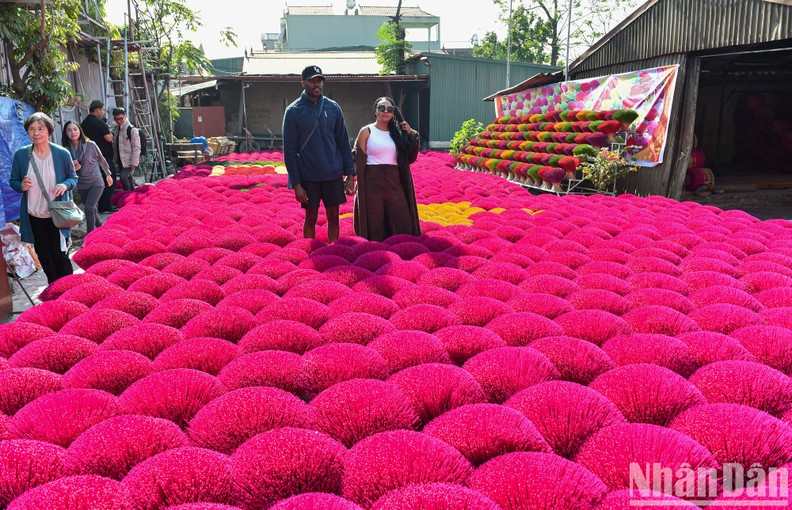 During these days, foreign visitors come to Quang Phu Cau Village to learn about this cultural and spiritual beauty of the Vietnamese people.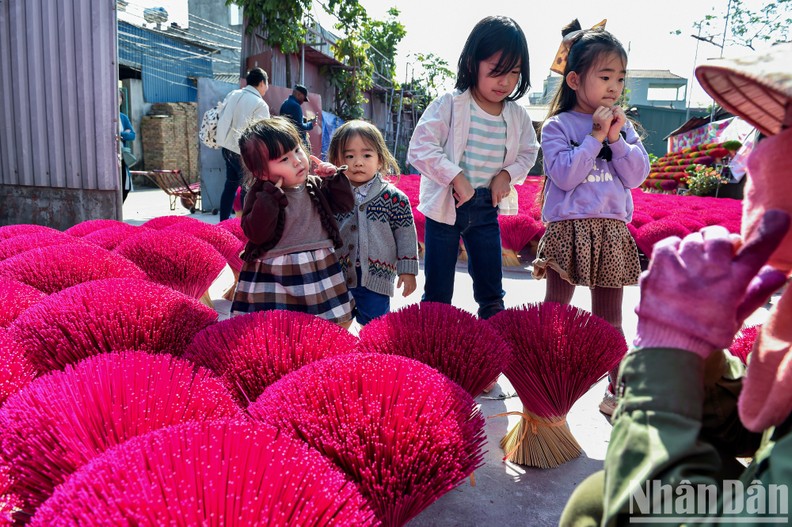 Foreign children are quite interested and curious about the colourful incense.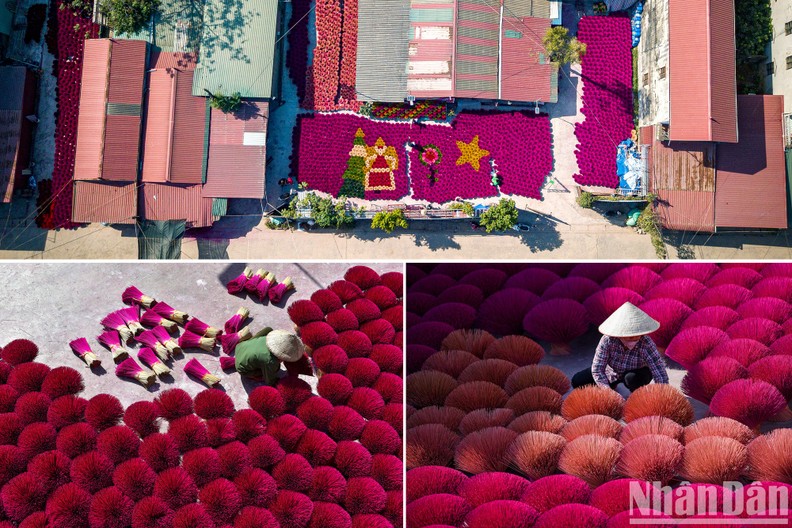 As a traditional craft village, Quang Phu Cau Village operates almost all year round. However, to ensure the quality of incense, the facilities in the village depend a lot on weather conditions.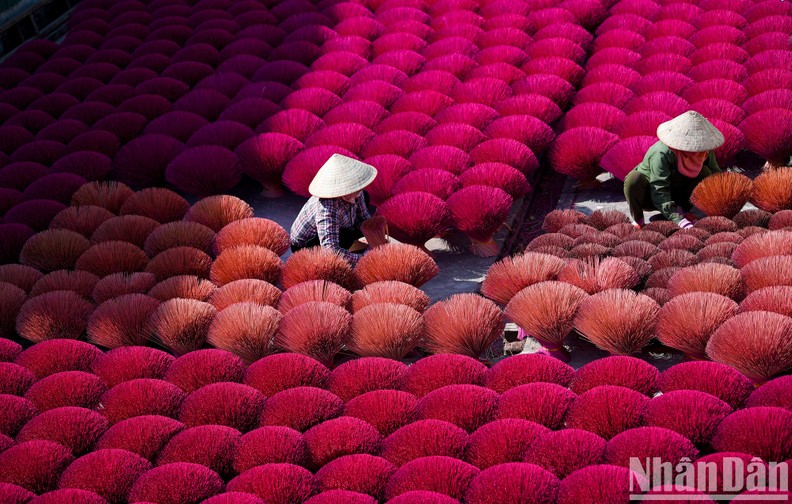 On sunny days, drying incense is one of the main jobs in the production of incense sticks. The bouquets of incense are like giant flowers under the bright sunlight.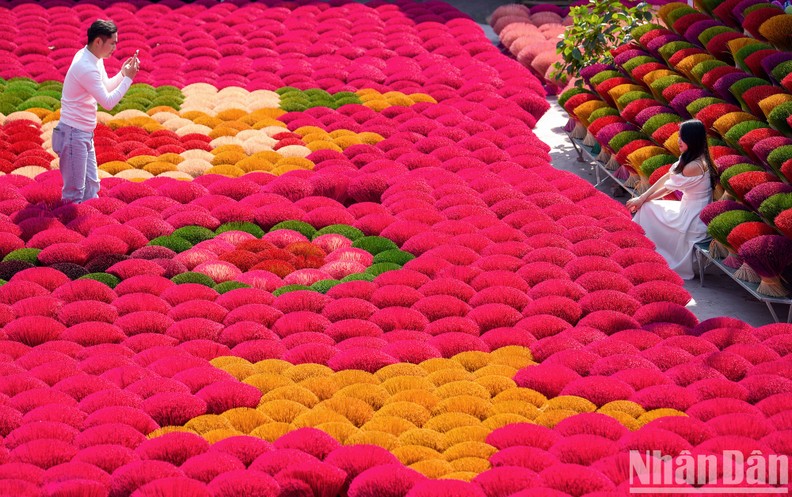 In the past few years, the village has attracted large numbers of visitors to take photos. To serve visitors, villagers arranged the incense sticks into symbols such as flowers and stars for visitors.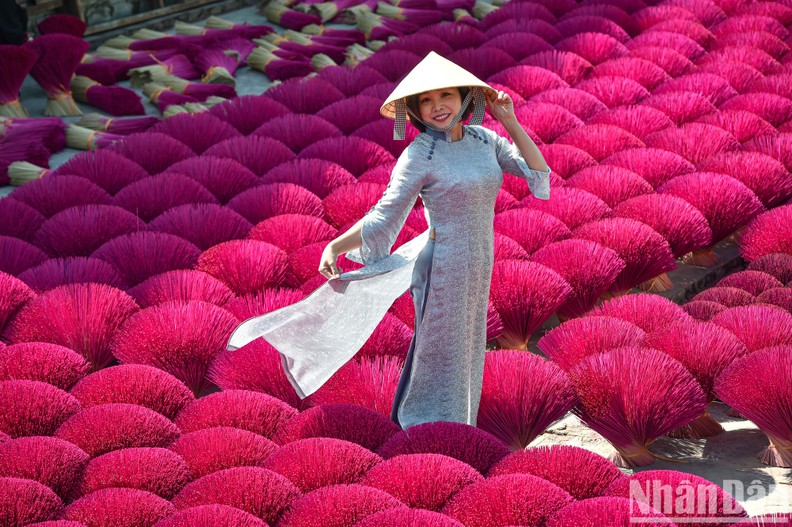 The Ao Dai (Vietnamese traditional long dress) is enchantingly beautiful beside the brilliant scenery of red incense bouquets.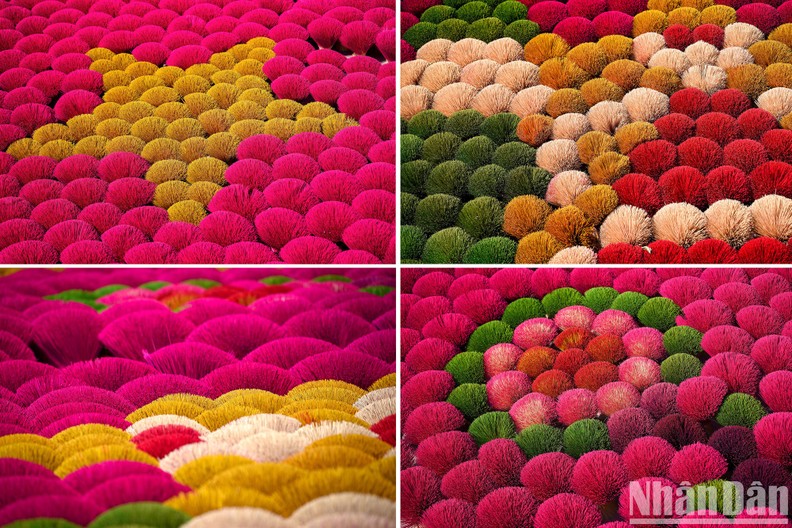 The colourful incenses are arranged in different shapes.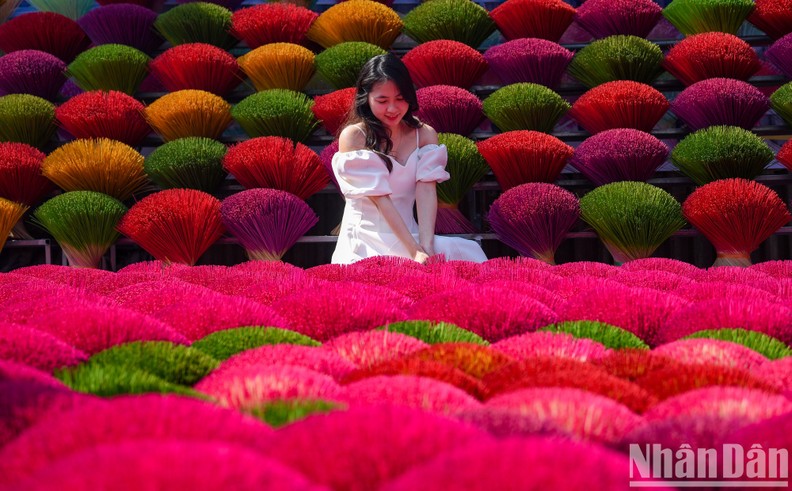 The village is definitely a beautiful check-in place for young people during the Tet holidays.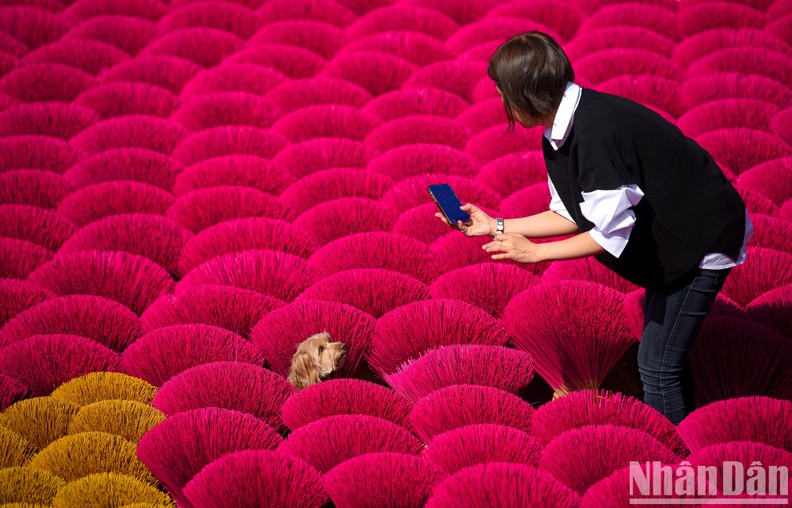 Many foreign tourists are surprised by the colours here.
To take satisfactory photos, visitors should choose sunny days to visit the incense village of Quang Phu Cau.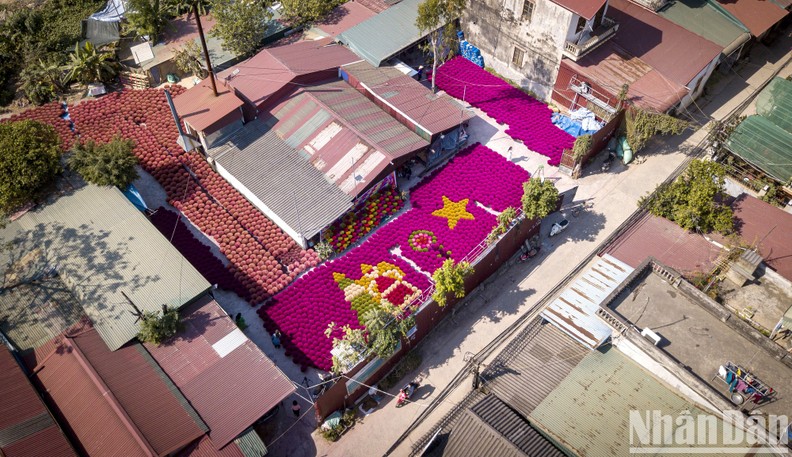 Traversing the village roads, visitors can see wide courtyards filled with bunches of red incense under the bright yellow sunlight. Here, people use the yards, communal houses, and empty fields to dry incense, creating impressive scenery.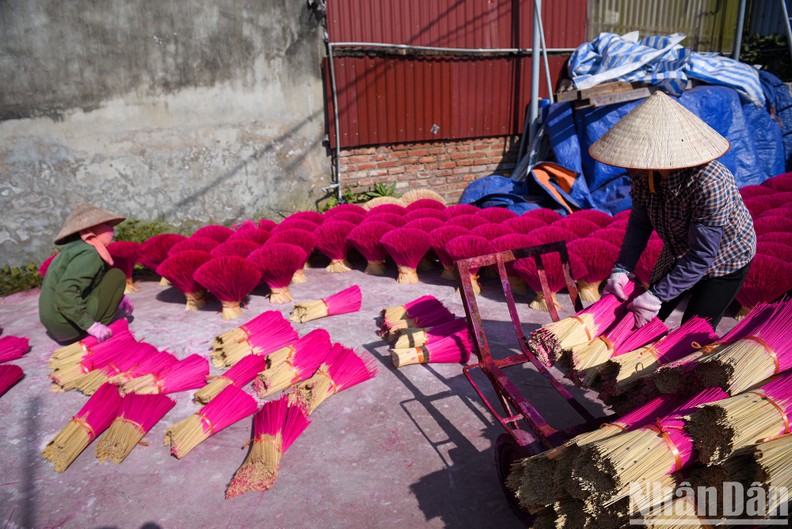 If you have a lot of time and visit the long-standing incense production facilities, you will have the opportunity to see the entire production process of the locals.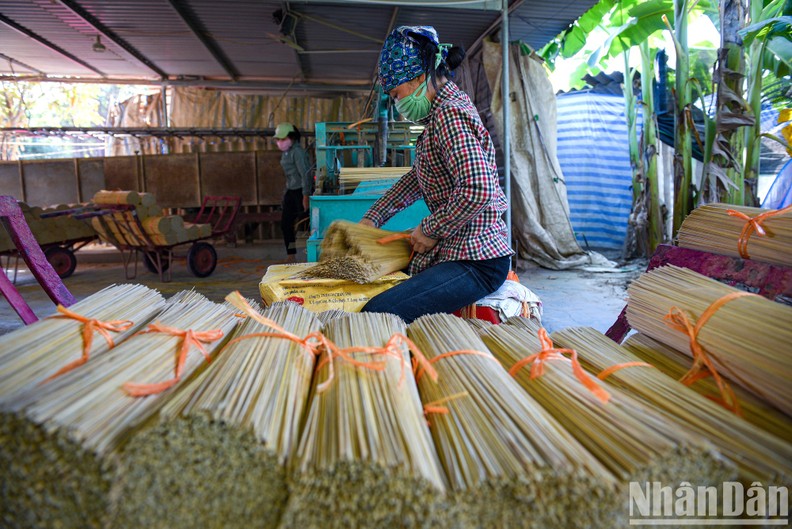 In the past, people mainly split the sticks by hand, but today thanks to machines, this stage is much faster, contributing to improved productivity.
The stages of making incense sticks are a combination of both machines and manual methods.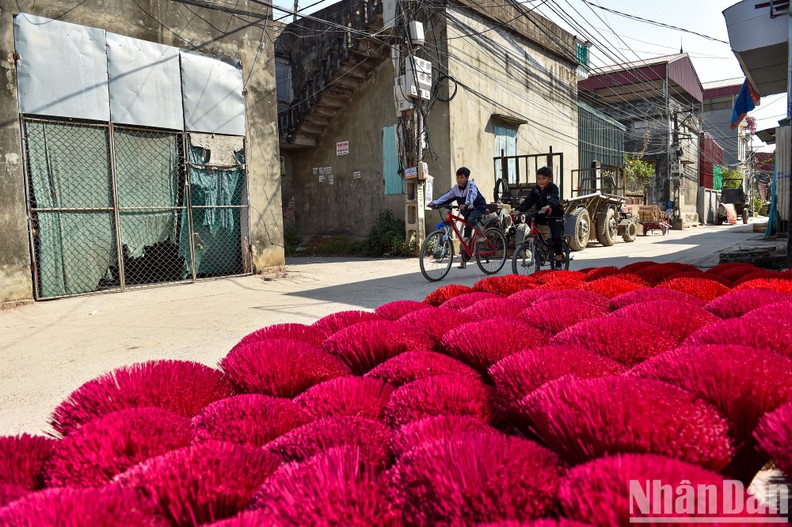 Today, when coming to this traditional craft village in Hanoi, visitors can buy incenses as well as take beautiful check-in photos during Tet.