Thang, who is also President of the Central Theoretical Council, expressed his belief that under the leadership of the LPRP, direction of the Government and supervision of the National Assembly, the Lao people will continue reaping greater achievements and realise the Resolution adopted by the LPRP's 11th National Congress.
Expressing his delight at the development of the great friendship, special solidarity and comprehensive cooperation between the two countries in various areas, Thang thanked Laos for providing invaluable support for Vietnam over the years.
The HCMA will work closely with the Lao National Academy of Politics and Public Administration (LNA) to carry out agreements reached by leaders of the two Parties, countries and academies, contributing to realising resolutions of each Party and further deepening bilateral special solidarity, he said.
The Lao leaders hailed the visit on the occasion of the Vietnam-Laos Solidarity and Friendship Year, saying that it will further enrich bilateral special solidarity and cooperation between the two academies.
They thanked Vietnam for offering great, sincere and effective support to Laos during the past struggle for national liberation and the current national construction and development, including human resources training.
The hosts wished the two academies to continue enhancing the exchange of information and theoretical research, especially new issues, while further improving the efficiency of personnel training for Laos, contributing to the renovation process of each country.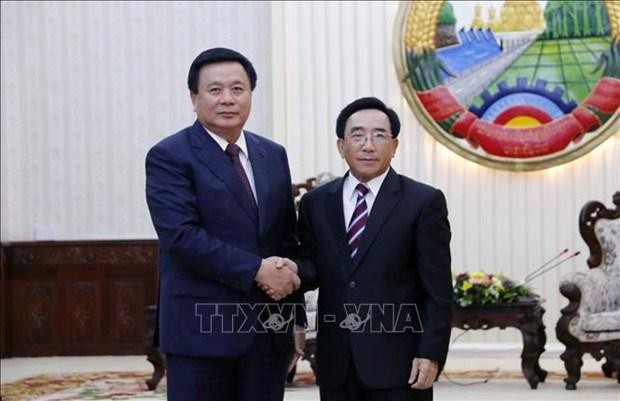 Prime Minister Phankham Viphavanh (R) and HCMA Director Nguyen Xuan Thang (Photo: VNA)
They vowed to do their best together with Vietnam to foster and pass on the tradition of bilateral special solidarity to future generations, as well as improve the efficiency of bilateral cooperation mechanisms in various fields, implement agreements set by leaders of the two Parties and countries during the Vietnam-Laos Solidarity and Friendship Year.
The same day, the Vietnamese delegation attended a ceremony marking the 60th anniversary of bilateral diplomatic ties and the 45th anniversary of the signing of Vietnam-Laos Treaty of Amity and Cooperation hosted by the LNA.
On the occasion, Thang, on behalf of Vietnamese Party, State leaders, presented the Vietnamese Party and State's Orders to individuals and collectives of the LNA in recognition of their dedication to personnel training, scientific research and external activities, contributing to strengthening bilateral special relations.
The delegation also visited Nguyen Du Lao-Vietnamese bilingual school in Vientiane.
Earlier on December 4, Thang held talks with member of the LPRP Central Committee and LNA Director Phouvong Unkhamxen, during which they agreed on orientations for cooperation in the near future, including building personnel training curricula, compiling Kaysone Phomvihane Thought and the LNA building in the southern Lao province of Champasak.