The 0-2 defeat against Japan left the Golden Star Warriors in second place in Group D and brought them to an extremely tough last-eight meeting with Iran who won Group C following three consecutive wins.
Vahid Shamsaee's side have proven to be a big mountain for Vietnam to climb in the quarter-finals, with the Iranians having won 12 out of the past 15 editions of the AFC Futsal Asian Cup.
The Western Asian representatives are currently sitting in sixth position in the FIFA Futsal World Rankings, while often progressing further in the World Cup tournaments.
Despite including up to 10 new players in their squad for the AFC Futsal Asian Cup 2022, Iran have still demonstrated superior power in the group stage, scoring a total of 24 goals and conceding only one.
The Iranian squad features players with a high level of techniques and skills. They not only possess brilliant stars such as Tayyebi and Oladghobad, but also have quality substitutes. This also means Vietnam will have to work very hard in order to stop Iran's attacking spearheads.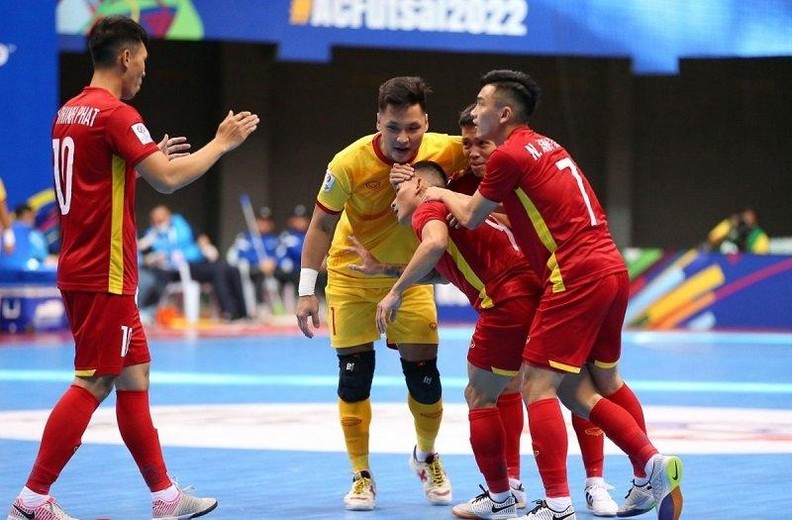 Diego Giustozz's Vietnamese side advance to the quarter-finals as the Group D runners-up. (Photo: VFF)
The Golden Star Warriors will enter the quarter-final match as the underdogs and may stand little chance of advancing further.
However, Vietnam head coach Diego Giustozzi is confident that his Vietnam side can pull off an upset when they face the reigning title holders this afternoon.
"We're going to try to win the match throughout the whole 40 minutes," Giustozzi told the-AFC.com. "Iran are the better team, but I was a world champion with a team that was not a candidate to win. This is futsal, they have 14 players, and so do we.
"We will try to win with our own tactics, and I'm not afraid. I know the match is going to be difficult and I know Iran's quality, but I believe in my players."
The Argentinian coach admitted Iran are strong in attacking, but affirmed that good defence will be the fulcrum for his Vietnamese side to create surprise against the continental futsal powerhouses.