The theme of the selection programme "Tin & Dung (Trust & Consume) Vietnam 2022 is "Digital platform to strengthen trust". Accordingly, the evaluation and voting criteria focus on innovative products and services, to accelerate recovery post-pandemic, providing customers with good experiences, which are trusted and used by consumers.
This year, the programme also honours products and services that have applied digital platforms to stimulate shopping demand, create a multi-platform customer experience space, and help product traceability and touchless payment.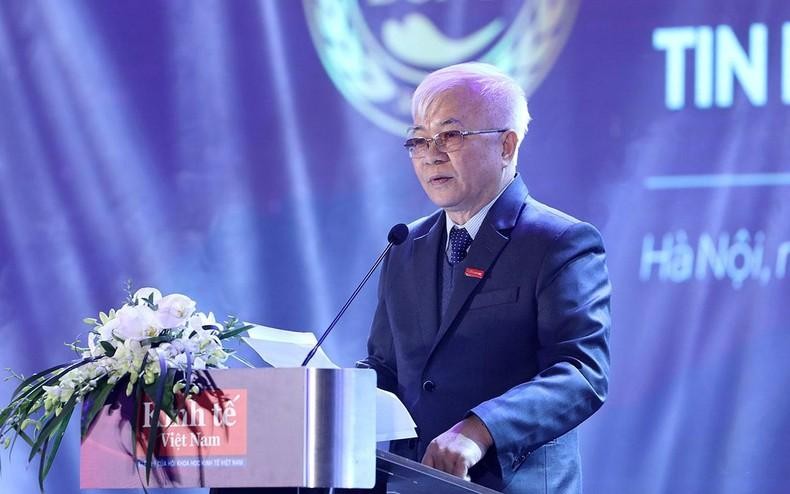 Dr. Chu Van Lam spoke at the programme.
Speaking at the opening of the program, Dr. Chu Van Lam, Editor-in-Chief of the Vietnam Economic Times - VnEconomy, said that during the 16 years of implementing the programme, Vietnam Economic Times - VnEconomy has always strived to expand information channels, to help consumers easily access and express their demands and evaluation on products and services circulating in the market.

Within the framework of the ceremony, businesses shared experiences on digital transformation plans and strategies, applying new technology and customer behaviour data. This is also an opportunity for businesses to cooperate according to the model of sharing economy.
The "Trust and Use Awards" nominate products and services in the fields of finance-banking-insurance, education, food and retail, fashion-cosmetics-beauty services, household appliances-interior decor, pharmaceuticals and health care equipment, tourism-resorts-real estate and telecommunications-technology.