On February 5, a representative of Traveloka Company expressed their desire to expand operations in the Vietnamese market, during a working session with Deputy Minister of Culture, Sports and Tourism Doan Van Viet, on the sidelines of the 2023 ASEAN Tourism Forum (ATF) in Jakarta.
At the meeting, the two sides spoke about Vietnam's tourism situation and the activities Traveloka has been implementing in Vietnam.
Traveloka's representative said that the company is always ready to cooperate with the Vietnam National Administration of Tourism (VNAT), in training tourism industry staff through online digital platforms. Besides, Traveloka wishes to develop a plan to sign a cooperation agreement with the VNAT.
The Deputy Minister suggested that Traveloka continue to coordinate with the VNAT in promotional activities and put Vietnam's tourism images on Traveloka's platforms.
At the meeting, Deputy Director General of the VNAT Ha Van Sieu said, that the two sides will continue to promote coordination in promotion activities, and digital transformation. At the same time, Traveloka continues to participate in upcoming fairs and seminars on Vietnam's tourism industry.
"Traveloka, in addition to focusing on inbound and outbound tourism, should continue to invest in Vietnam's very potential domestic tourism market with nearly 100 million people," suggested Deputy Director General Ha Van Sieu.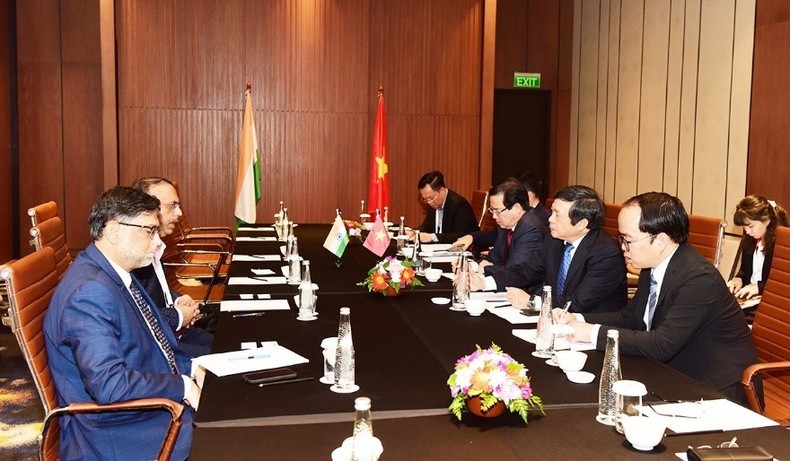 Bilateral meeting with India (Photo: Vietnam National Administration of Tourism)
Previously, on February 3, on the sidelines of the 2023 ASEAN Tourism Forum in Indonesia, the Vietnamese delegation had bilateral meetings with the Indian delegation.
At the meeting, the two delegations shared their common interest in enhancing cooperation and promoting the exchange of tourists. At the same time, the two sides shared information on the policy of opening up to restore tourism, including outstanding types of tourism, with great potential for the people and tourists of both countries, including Buddhist tourism.