>>> Vietnam to play Indonesia in AFF Cup semifinal
Entering the match with the top position in Group B after three straight wins in the group stage, Vietnam were full of confidence before facing their rivals again at home in the second leg Wednesday.
However, the team faced a range of difficulties as Indonesia have long been formidable opponents for Vietnam. Coach Alfred Riedl's players showed their strength and skills through each match in the group stage. Notably, they came from behind to beat Singapore to book a berth in the semi-finals.
Prior to the match, Vietnam only enjoyed a win in a total of seven clashes with Indonesia in the tournament. Coach Nguyen Huu Thang also did not have defender Truong Dinh Luat, who was sent off in the previous match with Cambodia, in his squad, while Indonesia welcomed the return of its top striker, Captain Boas Salossa.
Playing with the support of around 30,000 home fans at Pakansari Stadium, the hosts strengthened pressure on Vietnam's side right from the first few minutes.
Their efforts paid off in the seventh minute as defender Yama Pranata's header hit goalie Nguyen Manh's net after a corner from the right, opening the scoring for the home side. This was the first goal of Pranata in his first cap for Indonesia.
Vietnam strengthened its attacks thenceforth and created a number of openings, but this was only until nine minutes later, when striker Cong Vinh was pulled down in the penalty box by Wahyudi. The referee immediately granted Vietnam a penalty. Van Quyet made no mistake and equalised the score 1-1 for his home team.
Indonesia were quite tough as they quickly approached Vietnam's players to block their cooperation while using their speed and long balls to threaten Nguyen Manh's goal. Meanwhile, Vietnam's defensive line had a bad day, as they could not catch up with their rivals and often offered room for Indonesia to take advantage. However, no more goals were scored during the remaining time of the first half.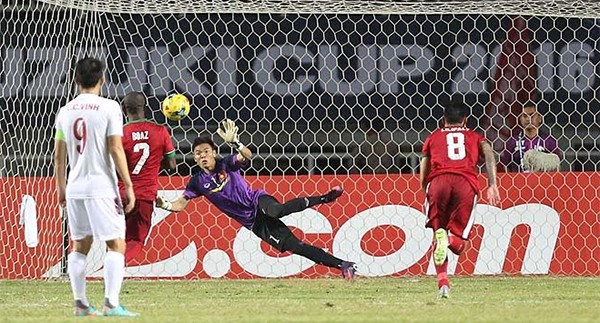 Captain Boas Salossa's goal from the penalty spot sealed the 2-1 victory for Indonesia in the 50th minute. (Credit: VNE)
In the early minutes of the second half, the balance was broken, due to a mistake by Vietnam's defenders. Que Ngoc Hai let Lilipaly make a through down the left, and the Vietnamese player had to blocked his rival with a foul. A penalty for Indonesia was given at the 50th minute and on the 11m spot, Captain Salossa beat Nguyen Manh to widen the gap to 2-1.
After that, Vietnam stepped up their efforts for another equaliser, but the team faced difficulties against Indonesia's aggressive playing. Coach Huu Thang sent in several substitutions to make changes, helping Vietnam ease pressure from Indonesia to create some chances to score.
However, Trong Hoang, Thanh Trung and Van Quyet wasted dozens of chances in the last minutes, even though the hosts slowed their speed to give Vietnam more space to attack.
Wasting so many chances, Vietnam suffered a narrow 1-2 loss in Indonesia, but Captain Cong Vinh and his teammates can turn things around during the return leg at Hanoi's My Dinh Stadium on December 7.
The second semi-finals will see hosts Myanmar take on Thailand at Thuwunna Stadium in Yangon on Sunday.