Two years of sublimation of Vietnamese beauty
They are Nguyen Thuc Thuy Tien who was crowned Miss Grand International 2021, Hoang Huong Ly crowned Miss Tourism Metropolitan International, at the Miss Tourism International 2021 and Bella Vu Huyen Dieu crowned Miss Eco Teen International 2021.
Participating in the Miss Grand International 2021 in Thailand, Nguyen Thuc Thuy Tien was highly appreciated by the jury through the rounds. She won convincingly against the candidates from Puerto Rico, Ecuador, Brazil and South Africa, on the final night.
Miss Vietnam 2020 Do Thi Ha matured in terms of performance and she reached the top 13 Miss World 2021. Also at this contest, Do Thi Ha won impressive achievements, including top 13 Top Models, top 27 Top Talent, top 28 Beauty with a purpose, and top 16 Head-to-Head Challenge.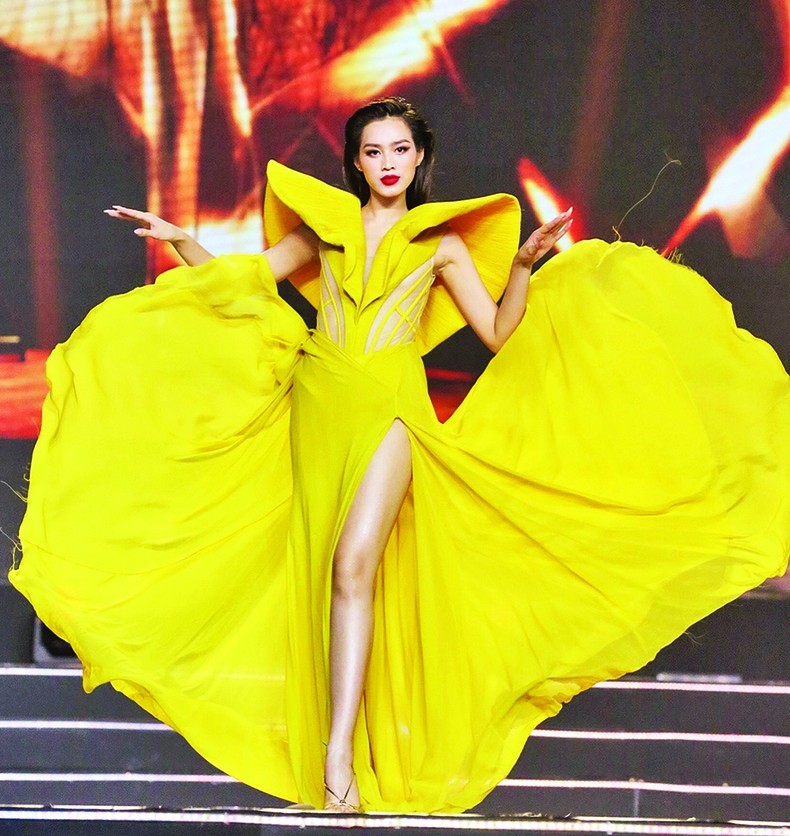 Miss Vietnam 2020 Do Thi Ha reached the top 13 Miss World 2021 (Photo: Phu Tho)
Model Quynh Anh also won the top prize in the 6th season of the Supermodel Me Revolution in December 2021. This is also the highest achievement of Vietnam so far in the major fashion playgrounds in Asia.
Vietnam continued to record other positive achievements in 2022, including the 2nd runner-up at Miss Supranational (Kim Duyen) and the 4th runner-up at Miss Globe 2022 (Lam Thu Hong). The word "Vietnam" is mentioned more and more on beauty pageants and forums. In particular, Le Nguyen Bao Ngoc excellently won the crown at Miss Intercontinental 2022.
The catwalk skills of Vietnamese beauties are at a stable level and they can confidently strut on international stages. The two basic skills of performance ability and English level of Vietnamese beauties, at international beauty arenas, have also been improved.
The memorable 2018 milestone of Vietnamese beauties
2018 is the year that Vietnamese beauty was crowned with the proudest achievements ever in international competitions.
Vietnam moved up from 65th to 56th place on the world beauty map in 2018, thanks to H'Hen Nie excelling in the top 5 of Miss Universe, Nguyen Phuong Khanh being crowned Miss Earth, Tieu Vy in the Top 30 Miss World, and Minh Tu in the Top 10 Miss Supranational. The information was published by the Missosology website, based on the results of the five most prestigious global beauty contests including Miss Universe, Miss World, Miss International, Miss Earth, and Miss Supranational. At that time, these events caused a storm in Vietnam, especially in the field of entertainment, fashion and beauty competitions.
Miss Vietnam Tran Tieu Vy was in the top 5 most impressive charity projects at Miss World and entered the top 30. Although she did not enter the top 12 as expected, Tieu Vy showed her maturity and progress just a short time after being crowned Miss Vietnam 2018. She was also in the top 30 of the Top Model contest, although she had no previous experience as a model or in fashion performance.
Although Vietnam reached the top 15 and top 17 Miss World in 2004 (Nguyen Thi Huyen) and 2002 (Pham Thi Mai Phuong), achieving a higher ranking remains a long story.
How to win in the international beauty arena?
To catch the eyes of international beauty judges, candidates must match international criteria with personality and inspirational stories. Outstanding beauty and a hot body are of course necessary, but when in a big beauty arena, those factors are just like a ticket to pass the qualifying round.
H'Hen Nie, who was not fluent in English and had to rely on interpreters in all language-requiring contests, still entered the top 5 in the most prestigious beauty contest on the planet because she brought to the competition a very emotional story. The first ethnic minority girl crowned Miss Universe Vietnam, not only writes her fairy tale but also inspires Ede ethnic minority girls to confidently pursue their path.
Undoubtedly, the message from H'Hen Nie's story will inspire millions of girls on Earth with the desire to rise out of poverty and escape the invisible traditional constraints, to express themselves and prove their ability to the whole world. After all, isn't it the aspiration of people wherever they are, under any circumstances?
H'Hen Nie said that "I wish girls in my village will have many experiences when leaving their village, to discover the vast world out there" and she had done what she said.
The big world out there is always changing, including the concept of beauty, but the core values will probably last forever. The heart-fluttering beauty of all times will always be. When our beauties compete in international arenas, what helps them to win is confidence, bravery, and innocence, and not just beauty.