The event is among the activities within the framework of the 2023 Hanoi Tourism Festival, which is held by the Hanoi Promotion Agency (HPA).
At the forum, Chairman of the UNESCO Hanoi Travel Club Truong Quoc Hung said the number of international visitors to Vietnam by air reached more than 1.6 million in the first two months of 2023, an increase of 37.8 times over the same period in 2022.
However, the reception of international tourists is facing some difficulties such as high airfares, leading to an increase in tour prices. Hung asked the airlines to reduce airfares to help in serving tours.
Deputy General Director of Sun Group Tran Nguyen said service providers need to organise promotional programmes for travel businesses so that they can reduce tour prices but maintaining service quality, towards attracting more customers.
In addition, many experts also believe that travel businesses and service providers need to upgrade and refresh their products to attract high-paying tourists. Specifically, businesses should promote collaboration with localities in tourism promotion activities.
Businesses need to compete with each other through services' quality, not by dumping which will lead to unsecured tour quality.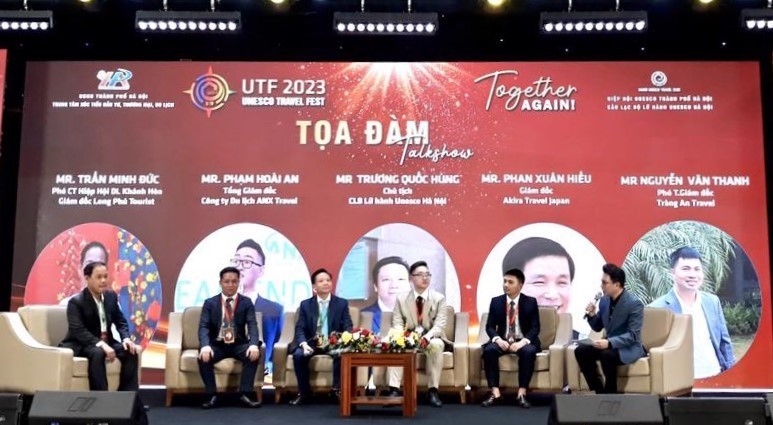 At the forum. (Photo: NDO)
Sharing experiences in attracting customers to revive the tourism industry, Deputy Director of Malaysia Tourism Promotion Board Norisyam Odzali said that the Malaysian tourism sector aims to welcome 16 million international visitors by 2023. To accomplish this goal, the Malaysian tourism industry plans to make the best use of communication with customers and partners Specifically, Malaysia will promote connection activities with Vietnamese companies as well as participate in tourism fairs in Vietnam to promote Malaysian destinations to tourists.
To support businesses to promote and build new tours in 2023, the HPA will cooperate with provinces and cities to develop regional products and develop the market of MICE tourism that combines meetings, incentives, conferences, and events.
Regarding tourism promotion, HPA Deputy Director Nguyen Thi Mai Anh stressed that the HPA will actively invite localities to participate in tourism stimulus programmes, focusing on the construction of new products departing from Hanoi.