Speaking at the meeting, Deputy Minister of Health Tran Van Thuan called on ministries, branches, and People's Committees of provinces and cities to continue directing the enforcement of the Law on Prevention and Control of Tobacco Harms and organise practical activities in response to World No Tobacco Day.
Tobacco-related diseases are currently responsible for the death of over eight million people from across the world each year.
The World Health Organization (WHO) warned that 1 billion people worldwide could die from tobacco-related causes this century unless "urgent action" is taken.
In order to further strengthen the interest of sectors, levels and communities in the prevention and control of tobacco harms, the World Health Organisation (WHO) has designated May 31 every year as World No Tobacco Day. With the permission of the Prime Minister, the Ministry of Health organises the National No Tobacco Week from May 25 to 31.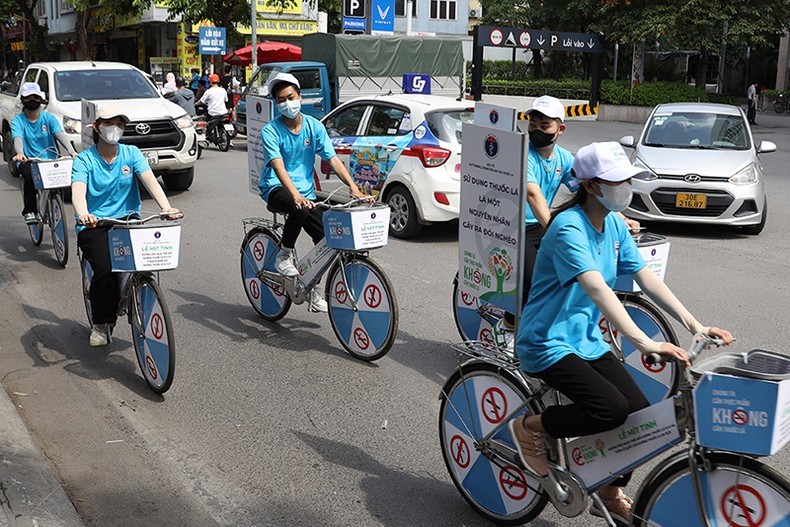 Delegates join a bicycle parade to inform the public of the health impact of smoking
The WHO chose "We need food, not tobacco" as this year's theme for World No Tobacco Day to encourage farmers around the world to grow sustainable and nutritious crops.

At the rally, with the technical support of the Global Public Health Organisation (Vital Strategies), the Ministry of Health's Tobacco Harm Prevention Fund launched the communication campaign "Say no to heated tobacco and e-cigarettes to protect the young generation".
Many communication activities will be organised to raise awareness among teenagers and parents of teenage children about the harmful effects of heated tobacco and e-cigarettes. In addition, the campaign also urges people not to use tobacco products, e-cigarettes, and heated tobacco to protect the health of themselves, their families, and the community.