Congratulating participating athletes and hailing their efforts and achievements, the State leader affirmed that the Party, State and people always pay great attention to the sports sector, including high-achievement sports. He pledged the best possible conditions for athletes to practice and compete, to continuously improve their performances.
He also requested agencies involved, especially the Ministry of Culture, Sports and Tourism, to well implement the nation's long-term strategy of sports development, with a further vision.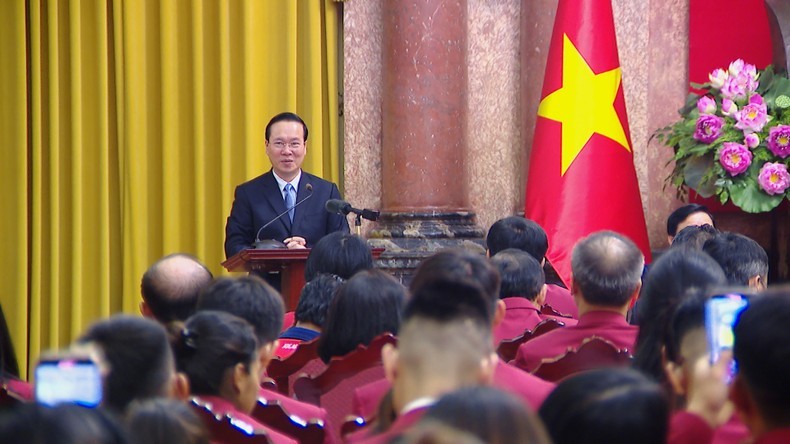 President Vo Van Thuong speaks at the reception. (Photo: Hong Quan)
President Thuong underscored the need to give priority to sports of Vietnam's strength, particularly in training, fostering, and discovering the next generation of coaches and athletes, to sustain and promote top performance.
He also expressed his hope that the coaches and athletes will keep the inspiration and motivation of the SEA Games 32 success, and work harder to conquer new heights in their careers.
The 32nd edition in Cambodia marked the first time in history that the Vietnamese contingent, despite not being in the host position, had topped the tally with 136 gold, 105 silver and 118 bronze medals, breaking 12 records, and setting four new records.
Also at the reception, President Thuong and other leaders presented the second-class labour Order to runner Nguyen Thi Oanh, who seized four gold medals at the game; and 37 third-class Labour Orders to other athletes for their excellent performances.