Diversifying "competitive weapons"
Vietnam possesses rich tourism resources that make many countries around the world jealous. However, the development of tourism products has not received much attention. At the National Conference on Tourism 2023, representatives from the Ministry of Culture, Sports and Tourism said that destinations in Vietnam have not had great attractiveness for visitors.
According to the Statistical Yearbook 2021 launched by the General Statistics Office, the average daily expenditure of international visitors to Vietnam increased from 91.2 USD to 117.8 USD during the 2009-20219 period. However, this is still very low compared to other countries in the region.
Intercontinental Danang Sun Peninsula Resort has received a series of prestigious international awards.
In order to solve this problem, the development of specific tourism products is considered a direction in line with international trends, helping to diversify tourism products, prolonging visitors' stays, increase the affordability for visitors, create more jobs, and raise revenue for tourism and related fields.
For examples in the south central coastal region, where tourism potentials in the destinations are similar to each other, with strengths in geographical location, infrastructure, and potential for sea and island ecology and cultural tourism. However, only the localities that have received systematic investment in tourism product system are able to retain tourists.
Typically, over 20 years algo, the familiar scene in Da Nang City was temporary and low-rise residential areas with corrugated iron roofs, floating fishing villages along the Han River and beaches luxuriant with wild plants. Over the past 15 years, the appearance of a series of projects such as Intercontinental Danang Sun Peninsula Resort, Sun World Ba Na Hills tourist area (with a cable car system wining many world records, indoor entertainment area Fantastic, flower festivals, and beer festivals held regularly, and especially the Golden Bridge) have helped the city make great changes.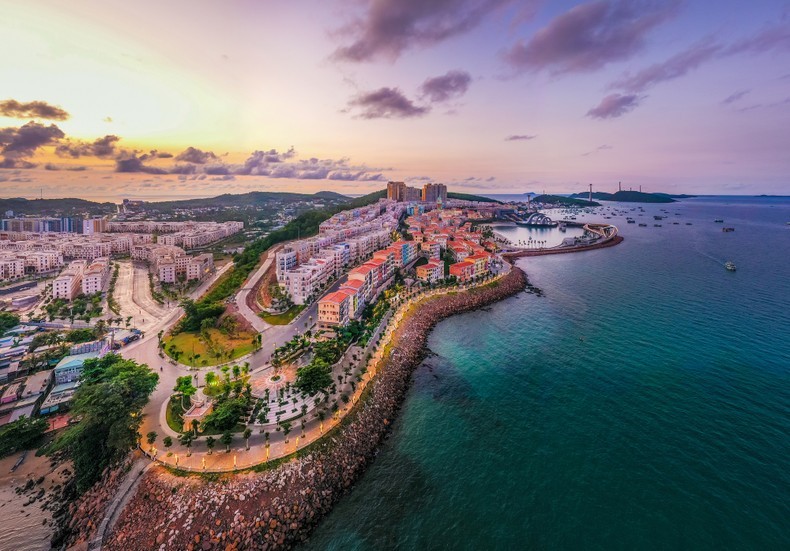 Sunset Town in the south of Phu Quoc City has been becoming an emerging destination to attract tourists.
In recent years, Nha Trang has rapidly become an attractive tourist centre with numerous modern 4- to 5-star accommodation facilities and MICE tourism development. In particular, the types of paragliding, hot air balloon and model plane have been favourite.
The development of tourism products has helped destinations retain tourists to stay longer, making a significant contribution to the tourism revenue of each locality as well as improving international prestige.
Changing position thanks to product development strategy
In the vision to 2030, the Government identifies tourism as a key economic sector, contributing over 10% of GDP. The number of tourists has increased every year, leading to corresponding changes in the demand for resorts and entertainment activities.
Opportunities have been opened for major corporations to turn destinations into tourism - resort – entertainment centres of the region, marking Vietnam's tourism in the world.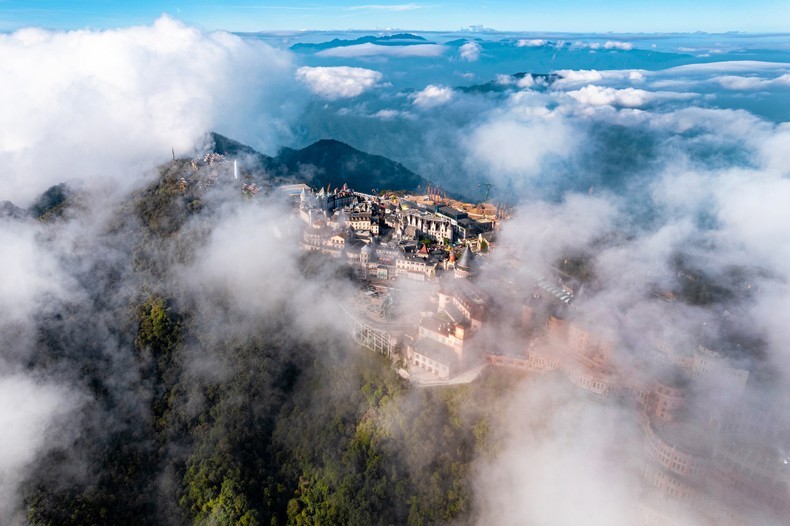 Sun World Ba Na Hills has attracted more visitors to Da Nang City.
Now visitors to Phu Quoc City do not simply bathe in the sea and east seafood and then return home. With high-class resorts, hotels and multi-experience parks, a beautiful Sunset Town that looks like it was lifted out of the Mediterranean, with iconic works such as Clock Tower and Pompeii ruins, and the most modern technology shows such as Kiss The Stars, Phu Quoc has been shaping a "new destination of the world". These unique products and experiences have contributed significantly to creating a new attraction for this pearl island.
It can be seen that the number of visitors to the island, which increased more than 13 times from 300,000 (in 2010) to more than 4 million (in 2019), is enough to show the role of tourism products for the development of smokeless industry in Phu Quoc.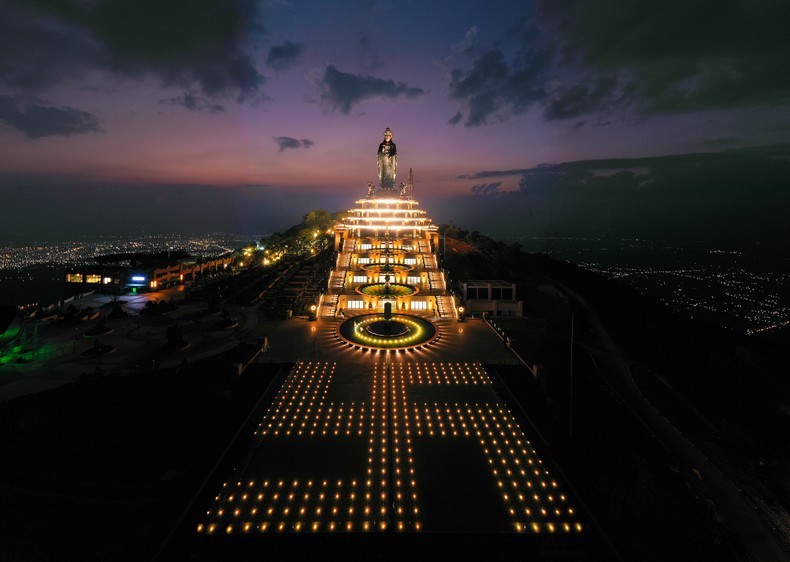 Spiritual architectural complex on the top of Ba Den Mountain, Tay Ninh.
The most impressive in Vietnam's tourism picture since the beginning of 2023 is probably Tay Ninh, with more than two million visitors and over 800 billion VND in tourism revenue, doubling that from the same period last year. And more than 90% of visitors to Ba Den Mountain, which is famous for its complexes of sacred temples and pagodas and Sun World Ba Den Mountain - a tourist area with three cable car routes, magnificent spiritual projects, and great spiritual works such as the Buddhist art museum, with an unprecedented scale in Vietnam that Sun Group built on the top of the mountain.
Da Nang, Phu Quoc and Tay Ninh are just a few examples of how good tourism products will create attraction, boost revenue from tourism, and increase jobs. They are also the lessons for destinations that are still struggling with what they have while the needs of tourists have changed. What they want in destinations is not only in terms of nature and history.