The event was jointly hosted by the Investment and Trade Promotion Centre (ITPC) of HCM City, the Vietnam Trade Office in Singapore and the Singapore Chinese Chamber of Commerce and Industry (SCCCI).
Addressing the event, SCCCI President Kho Choon Keng said Singapore and Vietnam have shared close and long-term economic relations, and their two-way trade grew steadily in the past decade, hitting 31 billion SGD (over 22.9 billion USD) in 2022.
Singapore has been always among Vietnam's largest foreign investors, especially in HCM City, he said.
Many Singaporean companies have established their offices or are actively seeking opportunities in many areas in Vietnam, including infrastructure development, production, transportation, logistics, education, tourism, finance and agriculture, Kho added.
Apart from further strengthening cooperation in existing fields, the two countries can also expand their cooperation in new areas, such as sustainability, green economy and digital economy, Kho noted.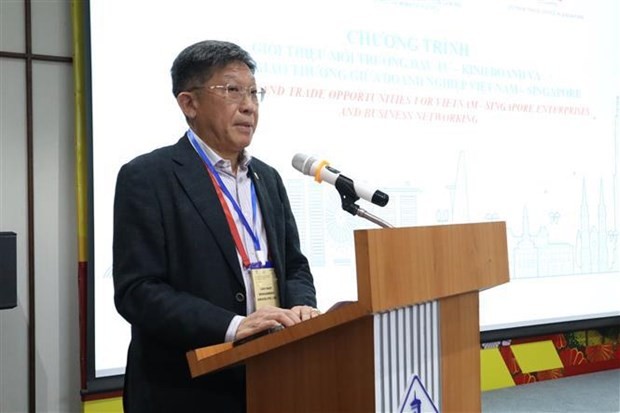 SCCCI President Kho Choon Keng speaks at the event. (Photo: VNA)
According to Cao Xuan Thang, First Secretary in charge of the Vietnam Trade Office in Singapore, said there is ample room for Vietnam and Singapore to step up their trade and investment cooperation.
Singapore is emerging as a service and finance centre in Southeast Asia, while Vietnam has also become an attractive destination for investors and goods distributors, Thang stressed.
Cao Thi Phi Van, Vice Director of ITPC, Singapore ranks second among 140 countries and territories investing in Vietnam with total registered capital of 71.85 billion USD. Singapore remains the biggest foreign investor in HCM City with over 1,677 projects worth nearly 14.02 billion USD, she added.
Van attributed the results to Vietnam's political stability, transparent and attractive investment environment, positive economic growth, and qualified and hard-working labour force, saying that the country is maintaining its advantages in attracting foreign investors, especially those from Singapore.
Notably, HCM City becomes more and more attractive to international investors thanks to the synchronous infrastructure system, which facilitates trade connection among domestic and international areas, she added.
Nguyen Quoc Vinh, Head of ITPC's Investment Promotion Division, said HCM City has always made efforts to maintain rapid economic growth and promote sustainable and comprehensive development in all fields.
Investing in the city, businesses will have the opportunity to access a large number of customers, he said, adding that HCM City is also a bridge helping businesses effectively approach to the ASEAN community with a market of 500 million people, Vinh said.