Talking to the Sri Lankan leader, Deputy PM Quang, who is paying a working visit to Japan, affirmed that Vietnam consistently attaches importance to the traditional friendship and multifaceted cooperation with Sri Lanka and wishes to develop bilateral relations more effectively and substantively.
He suggested both countries promote partnerships in multiple aspects, including increasing all-level mutual visits and people-to-people exchange; effectively carrying out existing bilateral cooperation mechanisms, particularly the Joint Committee chaired by the two foreign ministries; signing cooperation documents on education, culture, and agriculture; and strengthen trade links to raise bilateral trade to 500 million USD in the near future.
Quang also called for expanding ties to other potential fields, opening direct air routes to boost tourism, and maintaining close coordination at regional and international forums, especially the United Nations and the Non-Aligned Movement.
Recalling his impression during a visit to Vietnam as the Prime Minister of Sri Lanka, President Wickremesinghe underlined support for the countries' relations to develop more strongly and recommended that the two sides enhance cooperation in the economy, trade, investment, tourism and climate change response, and at multilateral mechanisms.
He also shared his country's efforts and policies to surmount economic challenges, noting that during that process, it hopes to foster economic ties with the Association of Southeast Asian Nations (ASEAN) and take part in the Regional Comprehensive Economic Partnership (RCEP), with Vietnam being a member of both.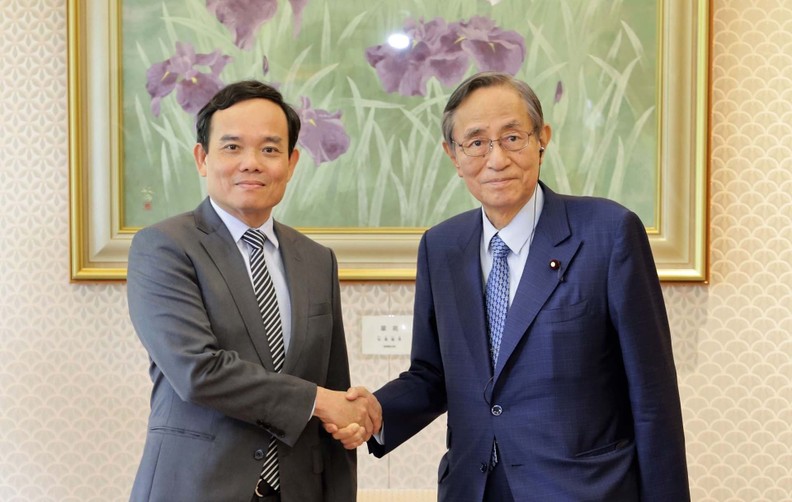 Deputy PM Tran Luu Quang (L) and Speaker of the House of Representatives of Japan Hosoda Hiroyuki (Photo: VNA)
At the meeting with Speaker of the House of Representatives of Japan Hosoda Hiroyuki, Deputy PM Quang noted with satisfaction the strong, substantive, and fruitful development of the Vietnam - Japan extensive strategic partnership.
He asked the House of Representatives and its Speaker to continue helping to elevate friendship and cooperation to a new level. He also took this occasion to recommend the Japanese lower house increase delegation exchanges at all levels, including between young and women parliamentarians.
Stressing the importance of economic cooperation, he asked the Japanese side to help enhance the two economies' connectivity to assist Vietnam in effectively engaging in new supply chains, support the implementation of the new-generation official development assistance (ODA) programme for Vietnam, and encourage small- and medium-sized enterprises of Japan to invest in and transfer technology to Vietnam.
Speaker Hosoda applauded the growth of bilateral relations, particularly their increasing cohesion via investment, trade, and manpower partnerships.
He also highly valued the important role and active contributions to Japan's socioeconomic development by the nearly 500,000 Vietnamese people in the country, adding that he hopes to see more Vietnamese coming to study and work in his country.
Deputy PM Tran Luu Quang and co-chairmen of the Vietnam - Japan economic cooperation committee of KEIDANREN (Photo: VNA)
The same day, Deputy PM Quang had a meeting with three co-chairmen of the Vietnam - Japan economic cooperation committee of KEIDANREN, namely senior advisor to Resonac Holdings Corporation Ichikawa Hideo, CEO of Sumitomo Corporation Hyodo Masayuki, and CEO of Sojitz Corporation Fujimoto Masayoshi.
He appreciated KEIDANREN's contributions to promoting economic and trade partnerships, connecting the two countries' enterprises, especially via the Vietnam - Japan Joint Initiative, giving useful advice to help improve the business climate in Vietnam.
The Vietnamese Government pays heed to protecting investors' legitimate interests and harmonizing the State and enterprises' interests. He suggested KEIDANREN continue bolstering investment ties and help the Southeast Asian nation effectively join supply chains of Japanese firms in the region and access capital sources for infrastructure development, the Green Innovation Fund, and the green finance sources of Japan.
The three Japanese co-chairmen welcomed Deputy PM Quang's visit amid the 50th anniversary of the two countries' diplomatic relationship.
They thanked the Vietnamese Government for its attention and support for investment and business activities of foreign enterprises, including those from Japan, over the past years.