'Wild Medicinal Plants of Central Vietnam' is probably the first book on Vietnamese medicinal plants to be published in English. The book is the outcome more than a year of discovery and research of Vietnamese medicinal plants by Henry Herbert, a 29-year-old man from the UK.
A handbook on Vietnamese medicinal plants in English
The more than 370 pages of the book are divided into two parts. The first part provides readers with the ecological, cultural, and historical context to examine medicinal plants. It explains the need to incorporate botanical knowledge into everyday life from a medical, culinary, and spiritual perspective. The author also provides his knowledge on the identification, harvesting, and processing of medical plants.
The second part includes information on more than 200 medicinal and wild plants that grow across central Vietnam. Each plant is illustrated with pictures and descriptions for easy identification and directions on how to use them.
The amount of knowledge in the book shows that the author is not only knowledgeable about the flora in the central region, mainly grown in the provinces of Quang Binh, Quang Tri, Quang Nam and Thua Thien Hue, but has also invested time and effort to search for each type of tree, then take notes and pictures, and determine their scientific name and Vietnamese name.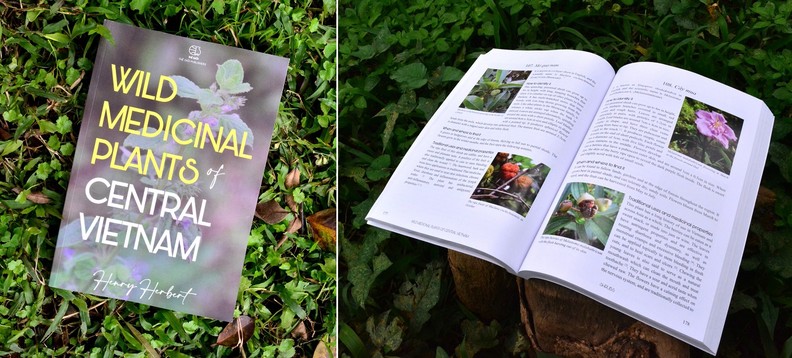 'Wild Medicinal Plants of Central Vietnam' by Henry Herbert (Photo: Dom Dom Permaculture)
The biggest difficulty facing Herbert during the compilation of the book may come from using Vietnamese in communication when he asked the locals about each plant, because he only came to Vietnam in 2018.
Luckily, Herbert had attended a herbal internship course in the summer of 2018 at the Schweibenalp ecological community in Switzerland, which provided him with a deeper understanding of the world of wild plants.
This motivated Herbert and Vuong Thuy Linh, his girlfriend, to move to a small farm on the outskirts of Hue City in the winter of 2019. There, they learned to live among nature and the rich flora of the central region.
As a result, in just over a year, Herbert, accompanied by Linh, who later became his wife, and their dog Percy, travelled throughout the forests of Thua Thien Hue, Quang Binh, and Quang Tri, and Quang Nam, to gain knowledge about medicinal and wild plants.
Love for the country and people of Vietnam
Born and raised in the suburbs of London in the mid-1990s, in a house with small garden, Herbert's connection with nature was very limited. After graduation, he worked in the insurance field, which gradually made him feel that life is boring and tasteless.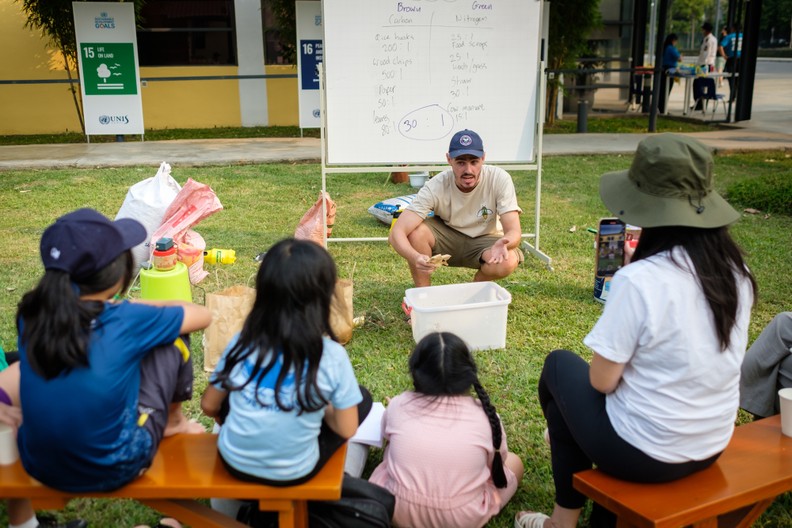 Henry Herbert at a gardening workshop for parents and teachers in Hanoi (Photo: Dom Dom Permaculture)
In 2016, inspired by the works of American novelist Jack Kerouac, Herbert decided to explore the world, searching for the purpose in life he was missing.
He headed to mountains, savannahs, and jungles in southern Africa. Although it was tough and hard work, it gave him what he needed: a connection with nature. He visited the first sustainable farming farm in Malawi and lived with the Maasai ethnic group in northern Tanzania.
He has taken small steps into the world of farming, sustainable agriculture, meditation, healthy diet, and medicinal and wild plants.
All of these knowledge became even more effective and applicable when he lived in Hue, especially after the COVID-19 pandemic broke out in 2020. Life on the farm made Herbert and Linh immune to the effects of the pandemic, and helped them realise the importance of growing their own food and being less dependent on global supply chains.
He held that when the world is closed, it will be easier if he has a safe place with a garden full of food. Herbert understood this well, and his goal was to teach others how to do the same.
This is the reason why Herbert and his wife participated in the La (Leaf) Library's project in Ninh Binh and founded Dom Dom (Firefly) Permaculture - an educational organisation that aims to guide the community in survival skills with food and herbs.
Herbert wants to share the experiences he received in his journey of discovering the world to everyone, not only sharing information in his book 'Wild Medicinal Plants of Central Vietnam' but also the inspiration for people to change, gain more knowledge of nature, and thus live a greener life.