The event was organised by the People's Committee of Da Nang City in collaboration with Consulate General of the RoK in Da Nang.
Speaking at the opening of the festival, Director of the municipal Department of Foreign Affairs Huynh Duc Truong said that the event is taking place in the context that the city has gradually been restoring international exchange activities after two years of being interrupted by the COVID-19 pandemic.
The event will contribute to enhancing understanding and cultural exchange between Vietnam and the RoK in general, deepening the friendly relationship between Da Nang and Korean localities and partners; towards the 30th anniversary of establishment of Diplomatic Relations between Vietnam and the RoK (December 22, 1992 - December 22, 2022).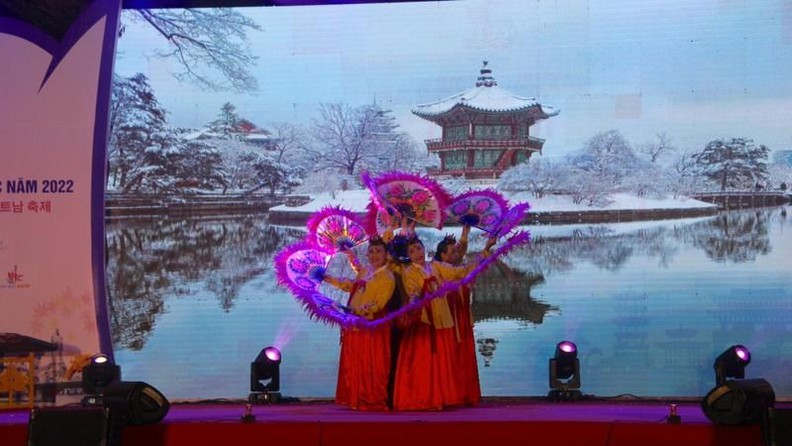 Artists from the Korean traditional art troupe performed at the event.
Speaking at the event, RoK's Consul General to Da Nang Ahn Min-sik affirmed that the Vietnam-RoK Festival held for the first time in Da Nang carries many meanings, highlighting the achievements of investment cooperation and cultural exchange between the governments of Vietnam and Korea in recent time.
At the same time, it is expected that Korean investors will pay more attention to Da Nang both in terms of economic and investment in the future.
Notably, on the night of September 4, the traditional art troupe from the RoK will have a performance to serve the people at the Korean Music Night. He expressed his hope that the event will continue to be well received and welcome the guests and people of Da Nang to watch, enjoy and mingle with the exciting melodies of Korean traditional music.
This festival is expected to not only help enhance exchanges and mutual understanding between RoK and Da Nang, but also help build a great friendship bridge as strong as the Dragon Bridge in Danang, Ahn Min Sik emphasised.
The image of the flags of Vietnam and Korea on Vietnamese traditional Ao Dai.
The Vietnam-RoK Festival in Da Nang City took place with many outstanding activities such as the display and introduction of 40 booths from domestic organisations and units and Korean organisations and businesses in the industries of food, consumer goods, culture, education.
In addition, an art programme introducing the unique cultural and artistic features of the two countries Vietnam and Korea such as Vietnamese Tuong art, traditional drum dance, and Korean Music Night with the participation of Korean traditional and modern dance groups such as B Boys and Queens will be organised.
In particular, the festival has welcomed the participation of 50 Korean actors and artists from the Korea Cultural Exchange Association (KCEA).
Some other activities will also be held, such as a Vietnam-RoK talent contest, Taekwondo martial arts performance, Hanbok experience, and traditional games from Vietnam and the RoK .