The event was attended by Vietnamese Ambassador to Cambodia Nguyen Huy Tang; Consulate General of Vietnam in BattambangProvince and Preah Sihanouk Province; the team searching for the remains of martyrs (K73); and representatives of sponsoring units. The Cambodian side saw the presence of General EK Som Oun, Commander of Military Region 5, and representatives of local authorities.
After two months of construction, the house for preserving the remains of Vietnamese volunteer soldiers in Cambodia has been put into use. The work includes the following items: the house forpreserving the remains of martyrs, and a flower and ornamentalplant campus, covering a total area of ​​600 square metres.
The entire amount for the construction of the project has been sponsored by Viettel Cambodia Company (Metfone) and the Military Commercial Joint Stock Bank-Cambodia Branch (MB Cambodia).
Speaking at the ceremony, General Ek Som Oun thanked the Vietnamese volunteers for the timely help to save the Cambodian people from the genocidal Pol Pot regime. He promised to continue to give his best support for Team K73 to carry out this sacred mission in the military zone.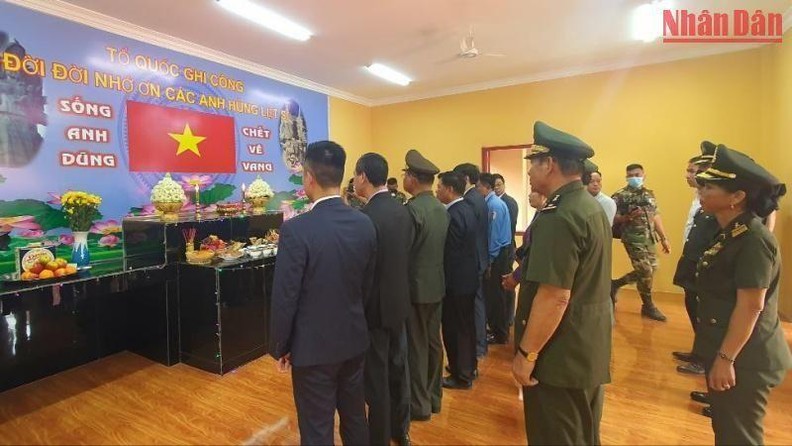 Commemorating the Vietnamese volunteer soldiers who sacrificed themselves for the independence and freedom of Cambodia.
For his part, Ambassador Nguyen Huy Tang thanked Military Region 5, the Royal Cambodian Army, and the government and people of Cambodia for their concern and for creating all conditions to have a spacious place to store and worship the spirits of Vietnamese volunteer soldiers who died.
The construction of the House for preserving Vietnamese martyrs' remains in Cambodia is one of the many meaningful activities incelebration of the 55th anniversary of the establishment of Vietnam-Cambodia diplomatic relations.