Question: Your picture 'The Terror of War', commonly known as 'Napalm Girl', have been mentioned by everyone to depict the fierceness of the war. What impressed you the most when taking this photo?
Journalist Nick Ut: It's been more than 50 years since my 'Napalm Girl' photo became known to the public, which arose a wave of international public opinion against the Vietnam War.
The photo still makes me meditate every time I think of it. My biggest obsession is the crying and nakedness of the children on that day, including little Kim Phuc - the central character of the photo.
When the bomb was dropped and exploded, with my camera in my hand, I tried to capture the moments that took place before my eyes, which was a very horrifying scene.
Every time I look at that photo, I still have a feeling of fear and do not want to mention the word "war".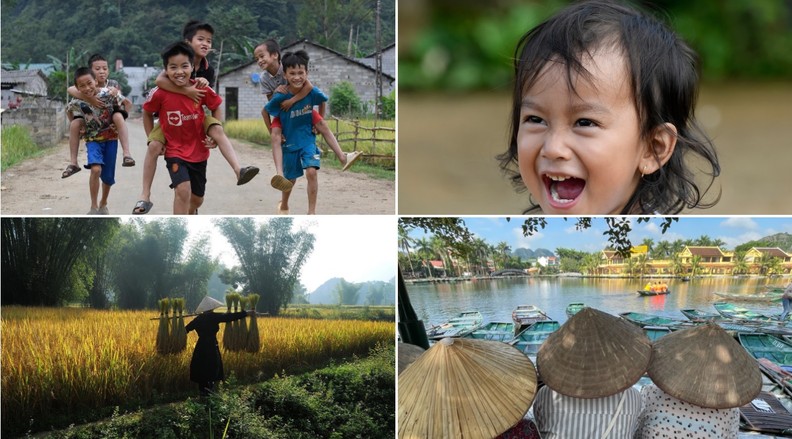 Vietnam's landscape and people through the lenses of photographer Nick Ut
Whenever you return to Vietnam, you take photos of the Vietnamese landscape, through which many international friends want to visit Vietnam. What do you think about promoting Vietnam tourism to international friends through your photos?
Now that Vietnam has so many beautiful things to mention, and I want to promote the image of the country and people of Vietnam through photography. Many friends of mine, after seeing my photos, immediately bought tickets to visit Vietnam because they said that Vietnam is so peaceful.
Every time I return to Vietnam, I have fresh emotions. My visit in 2022 is one of the most memorable experiences of my life. During that trip, I had the opportunity to visit the Northwest region, where I witnessed many unique beauties of the local people. I like taking photos of people working, their work seems heavy but they always have a smile on their faces.
You have a lot of photo collections of Hanoi, is Hanoi always the first destination when you return to Vietnam?
I was born in Saigon (now Ho Chi Minh City), but I love Hanoi, and I have a strong sentiment for the city. For me, Hanoi is always fresh, from its people to its landscapes.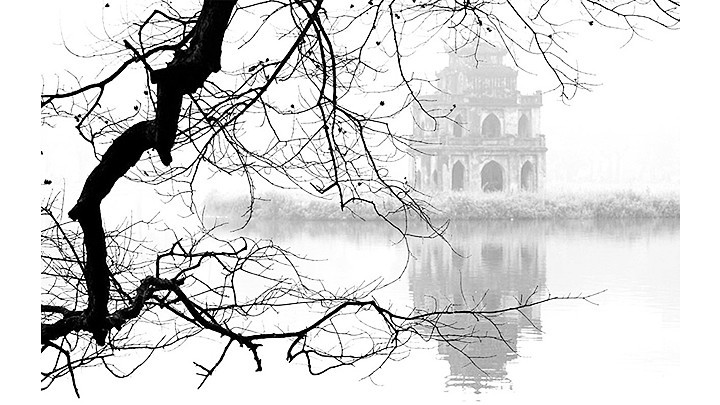 A photo of Hoan Kiem Lake in Hanoi by photographer Nick Ut
For example, when taking pictures of Hoan Kiem (Sword) Lake, standing at different angles and taking pictures at different times, can bring about special and distinctive photos.
I like to take pictures of the lake in the early mornings when the fog is still covered in the air. At that time, the street isn't full of traffic, just people who go out for morning exercise.
Above all, I find peace in every little corner of Hanoi's streets. Despite going through wartime, the land and people here are still gentle and kind, making me return whenever I leave.
Do you have any secrets to capture the daily life of people?
If you want to shoot unique photos, you have to find angles that few people know. To take beautiful pictures depicting the life of the Vietnamese people, I spend a lot of time observing and visiting the houses located in the remote villages, in the high mountains, going deep into each small and sneaky street of Hanoi. I once waited a long time to take a picture of the sunrise over the sea in Vung Tau.
Although taking pictures of everyday life is not dangerous and not under a lot of pressure, it is very difficult to get a good photo. It requires a lot of observation to choose the right setting and capture the right moment. Sometimes I miss many beautiful moments, it's such a pity.
Although you are very busy, you still spend time sharing your experience and inspiring many students and young reporters. Is this something you cherish after retiring?
While talking to students, I always advise you to be committed and dedicated to the profession. Youth is the time when we have health and ambitions, dare to think, and dare to do. I hope that every time I return to Vietnam, the stories I tell about my career will inspire young people's love for photography and journalism.

Photographer Nick Ut
After over half a century working for the AP news agency, retirement is the time when I feel the happiest. Now I have a lot of time to travel, do the work I love, and meet the people I want to meet. Above all, my retirement is the time when I return to Vietnam the most.
Many universities in the US have invited me to teach but I refused. When I returned to Vietnam, where I felt very close in my heart, I want to talk about journalism with students and young journalists.
I see myself in them, when I was the same age as them, I was always enthusiastic about my career, partly thanks to my brother's motivation for me to pursue a career as a reporter. That's why I understand very well what it means to inspire young generations.
Thank you very much for your sharing!
Photographer Nick Ut, whose real name is Huynh Cong Ut, won the prestigious Pulitzer Prize in 1973 for his photo 'The Terror of War'.
The photo captures Phan Thi Kim Phuc, a nine-year-old girl, running naked along the road crying from burns inflicted by a napalm bomb dropped by the US, in the southern province of Tay Ninh. The photo leaves a strong impression on viewers about the fierceness and cruelty of war.