Speaking at the session, the President emphasised that Thanh Hoa is a vast land with a large population, having many advantages for socio-economic development.
As the province with the third largest population in the country, human resources are an important asset, he added.
President Phuc spoke highly of the province's achievements in socio-economic development, as well as its efforts to effectively implement the Resolution of the 13th Party National Congress and the Resolution of the 19th Provincial Party Congress.
The economic scale is in the top 10 nationwide, showing the important role of Thanh Hoa's economic growth, making great contributions to the overall development of the country and vice versa.
However, the President also frankly pointed out some limitations: The economy has grown rapidly, but it is not stable and harmonious, especially among sectors, fields, regions and areas. The productivity, quality and competitiveness of the economy are low, the economic scale of Thanh Hoa only accounts for about 2.5% of the country's GDP. The budget collection is large, but the ability to budget autonomy is still low, and the business investment environment is still inadequate.
Accordingly, the President suggested Thanh Hoa should soon complete and approve the provincial development planning, based on integrating economic development with social development, urbanisation associated with rural development, and production transformation associated with labour restructuring.
Regarding the province's recommendations, such as calling for investment attraction, staffing enhancement, and key investment projects throughout the province, the President asked the Government, ministries and sectors to coordinate promptly, support and solve problems for the province.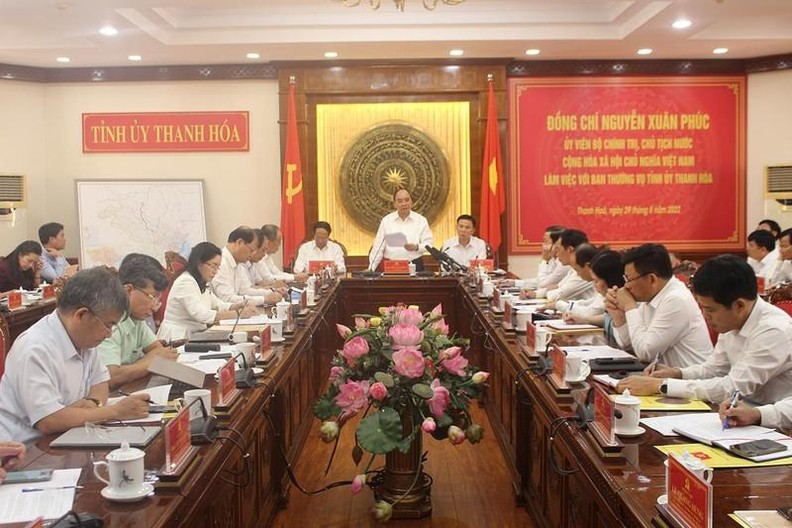 An overview of the session
In 2021, despite being greatly affected by the COVID-19 epidemic, the province's economy still grew by 8.85%, ranking 5th in the country, especially during the first six months of 2022, economic growth is estimated at 13.41%, ranking 3rd in the country, the budget collection is equal to 93.6%, reaching the highest ever, showing that the economy's health is recovering after the epidemic.