A common passion for the arts
Cao Van Tuan, founder of the 1,000 sq.m-Indochina Art Museum in Hai Phong City, began collecting antiques, paintings, and sculptures 40 years ago when he was in his twenties.
In addition to an assortment of 300 paintings, including many works by famous Vietnamese artists, Cao Van Tuan's collection also includes 15,000 artefacts, which are the result of his numerous trips across the country.
Tuan said that he had to ask many experts in museology, fine arts, history, and archaeology for opinions and suggestions on how to arrange the artefacts in his museum in the most reasonable way.
In the initial phase, Cao Van Tuan's museum is open to the public for free. The establishment of the museum received much appreciation and support the leaders of the Hai Phong City Department of Culture and Sports.
Sharing the same passion for art and culture, Nguyen Thieu Quang, the owner of a collection of more than 1,300 artworks, founded the Quang San Art Museum in the municipal city of Thu Duc, in Ho Chi Minh City.
The presence of private art museums has created diversity in activities to introduce and promote cultural and artistic heritage values to the public while limiting the "bleeding of antiques".
The establishment of museum is the outcome of Quang' 20-year journey of collecting artworks. Quang shared that initially, he intended to display the collection in a small space for personal and family enjoyment.
Quang then decided to expose his collection to the public so that art enthusiasts could come to admire it.
Quang San Art Museum brings together almost all celebrated Vietnamese artists of the past 100 years, from master painters who founded the Indochina College of Fine Arts ¬— the pillars of the first and second generations of modern Vietnamese art, also known as Nghiem-Lien-Sang-Phai and Tri-Van-Lan-Can — to those trained under the national resistance wars against the French colonialists and the US imperialists, and contemporary artists.
Many of the paintings were bought by Quang during his attendance at auctions in foreign countries. Some paintings are priced in millions of dollars.
Quang has received offers to sell his paintings at a higher price than he had paid, but he refused because he has no intention of making money from trading arts.
The presence of private art museums has created diversity in activities to introduce and promote cultural and artistic heritage values to the public while limiting the "bleeding of antiques".
Support needed to help private museums compete long-term operation
Although many policies and regulations have been issued to create favourable conditions for the establishment of private museums, these museums continue to face many difficulties and obstacles in maintaining operations and development in long term.
According to historian Duong Trung Quoc, most of private museum owners are individuals with strong financial capacity and have a passion for art. However, they often lack professional and in-deep knowledge about museums and museology.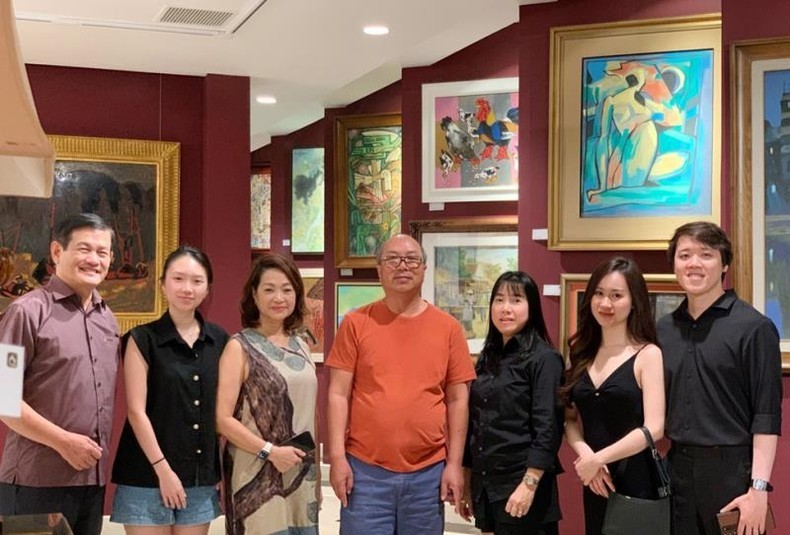 Nguyen Thieu Quang (middle) the Board of Directors of Quang San Art Museum
Many private museums have impressive collections, but they operate in an amateur manner, with the display of the exhibits based on the personal tastes of the owner without proper curatorial direction.
In addition, private museums show limited application of digital technology to spread and promote their cultural heritage values.
Many private museums are still arranged their spaces in an old-fashioned way, lacking interactive experiences for visitors.
To develop sustainably and better serve visitors, private art museums have no choice but to move towards professionalization of their operations. This includes improving the arrangement and display of their collections, as well as the conservation and preservation of their artefacts.
Private museums also need to provide professional training for their staff and seek support from government agencies and educational institutions to promote their cultural heritage values and attract more visitors.
Private art museums are in need of support from functional agencies and experts to enhance the qualification and experience of their staff.
Currently, the popularity of private museums remains humble, and the number of visitors is lower than with public museums. In the long run, the number of visitors is an important factor in maintaining the operation of museums.
One direction that private museums are heading towards is targeting students with the support of local educational sectors and schools, which often provide their students with short trips to museums.
Currently, some provinces and cities have worked out policies to support private museums in terms of locations and connecting museums' activities with relevant sector agencies.
Some localities, such as Thua Thien Hue, are aiming to set up a street of museums and exhibition centres with an aim to promote the development of high-quality private museums, create new tourist products, and provide creative and artistic spaces for people of all ages.