The MV was officially launched in Hanoi on October 29, as part of activities marking the 30th anniversary of Vietnam – RoK diplomatic ties (1999-2022).
In the MV "Butterfly Flakes", Joseph Quyen performed the song in Korean (with Vietnamese and English subtitles), with young female singer Hyee Pham.
He plays the role of a prince who is lost in a mysterious and unspoiled space and meets a butterfly fairy. They travel through the poetic, beautiful and majestic lands of Vietnam, creating a love story with beautiful music.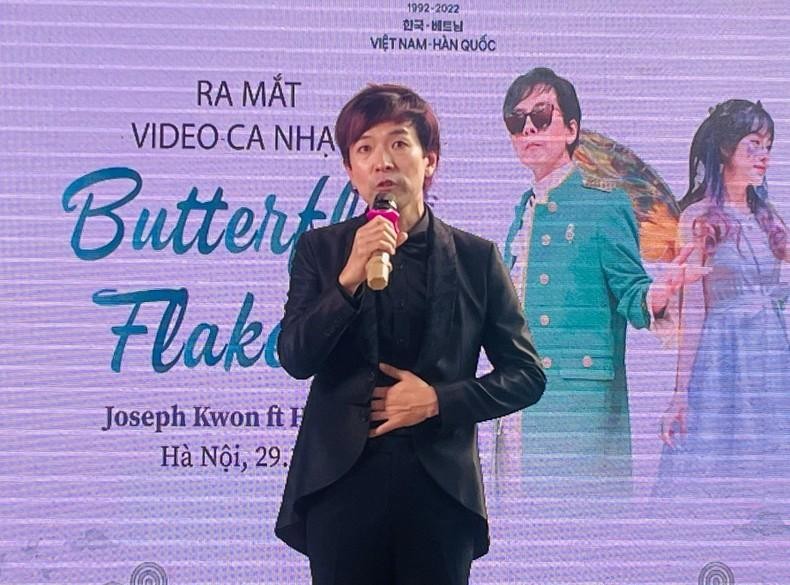 Artist Joseph Quyen speaks at the launching ceremony of the MV. (Photo: NDO)
The poetic lyrics, combined with beautiful scenes of Vietnamese destinations, are expected to inspire love and pride for the land and people of Vietnam among viewers, as well as their aspiration to travel and explore the S-shaped country.
Joseph Quyen graduated with a Master's degree in vocal music in Italy. He has been known as a multi-talented artist with many roles such as musician, composer, singer-producer and conductor at SBS Choir Radio and Korean Cultural Centre
He said he began to approach Vietnamese films and had a special affection for this beloved land when he was 10. He came and lived in Vietnam four years ago and always considers this as his second home.
Over the past two months, the production crew of the MV made the journey through more than 10 provinces and cities, stretching from north to south, with many famous tourist destinations such as Cuc Phuong National Park, Dragon Bridge in Da Nang, Fansipan peak, Hoi An ancient town, Mui Ne coast, Ha Long Bay, Bau Trang-Binh Thuan dunes, Ba Be lake and big cities like Hanoi, Ho Chi Minh City and Quang Nam.
Previously, in August 2022, Joseph Quyen issued the MV "Waiting for you, 5,000 years" with many famous tourist attractions in Vietnam. During the time he has lived here, he composed a series of unique songs about Vietnam such as "Go Vietnam go go", "Cha ca or peace", and "Remember". Particularly his song entitled "Vietnam" was broadcast more than 50 times on central and local television channels.