Exploring the charming Ha Long Bay
In June this year, Touropia, the world-famous travel agency, announced the 10 most beautiful bays in the world, with Ha Long Bay topping the list. The bay has won the hearts of international tourists and has been named in a series of rankings including Top 10 UNESCO World Heritage Sites in Asia, most famous landmarks to visit at least once in a lifetime in the Southeast Asia, and in the 50 most beautiful natural wonders in the world.
Visitors to the bay in autumn can immerse themselves in stunning seascapes that feature jade green emerald waters and limestone towers against the blue sky. They can also explore a system of breathtaking caves and islands or the daily life in fishing villages in the bay.
Tremendous excitement at amusement complex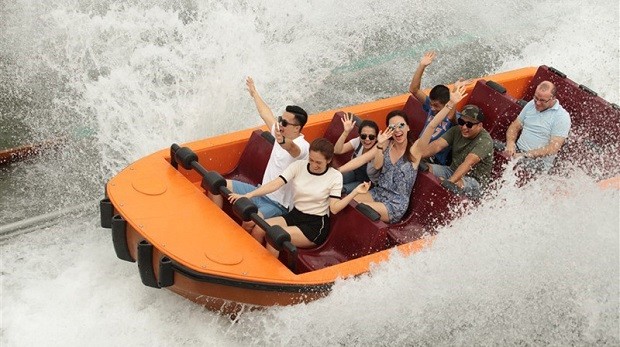 Visitors take part in a wild ride at Dragon Park.
Sun World Ha Long Park amusement complex provides fun and tremendous excitement to visitors of all ages, as they can take part in a variety of wild rides at Dragon Park and adventurous games at Typhoon Water Park.
After having joy and fun, visitors can take a sightseeing trip to Bao Hai Linh Thong Tu cultural and spiritual complex or experience the journey across Ha Long Bay and admire the city from above by Queen Cable car.
Experiencing Japanese-style hotspring
Designed as a peaceful Japanese village in the middle of Quang Hanh valley, surrounded by mountains and green forests, Yoko Onsen Quang Hanh offers Japanese-style healthcare tourism service with hot spring baths.
Different types of sauna, spa services, and mineral baths at the luxury resort are perfect ways to treat the health and get unique beauty care.
Yoko Onsen Quang Hanh offers Japanese-style healthcare tourism service with hot spring baths.
An array of beautiful hotels and accommodation
As a tourist magnet in the northern region, Quang Ninh province offers all types of accommodation for tourists, from budget homestays to luxury resorts.
Alongside with international standard hotels such as the Wyndham Legend Halong and Muong Thanh Grand Ha Long, or unique homestays, travellers can also spend their stay at Premier Village Halong Bay Resort, which offers the most breathtaking scenery of Ha Long bay.
Superb dining experience
Ha Long hand-made squid paste: A delicacy of Quang Ninh province
Superb dining experiences ire one of reasons why people love to visit Quang Ninh, where they are treated to fresh and savoury seafood and great local delicacies such as fried squid paste, banh cuon (steamed rice rolls), 'khau nhuc' (stewed pork), and yoghurt with tapioca pearls.
Conquering majestic trekking routes
Quang Ninh is home to many majestic trekking routes, including the "dinosaur spine" in Binh Lieu border district, or the routes leading to sacred and spectacular religious sites such as the Cai Bau Pagoda, Cua Ong Temple, Bao Hai Linh Thong Tu, and the Complex of Yen Tu Monuments and Landscape.