Great potential for Vietnamese goods
As one of the exporters of agricultural products, DannyGreen Corporation has prepared an area of about 120 ha in Ninh Thuan Province along with 15 greenhouse systems to serve the production of organic cantaloupe, with quality on par with Japanese standards, in order to conquer demanding markets such as the Netherlands and the Nordic region.
Tran Phong Lan, a representative of DannyGreen said that "With its prestige and brand name in the market for more than 10 years, DannyGreen cantaloupe products have been certified by GAP Japan and USDA of the US and are about to be certified by the Europe. We look forward to finding opportunities to bring the organic product, one of Vietnam's premium products, into the Nordic market, one of the most demanding markets in the world."
The careful preparation of DannyGreen is a demonstration to the fastidiousness of the Dutch and Nordic markets.
Director of VIEC Company in the Netherlands Nhu Nguyen said that although the Netherlands has only 17 million people, it is a "gateway" for import and re-export to other European markets.
Vietnam exported about 2.5 billion USD of unroasted and decaffeinated coffee in 2021. Sweden is the sixth largest coffee consumer per capita in the world, with an average of 8,2kg per person per year, after neighbouring countries such as Finland, Norway, and Denmark.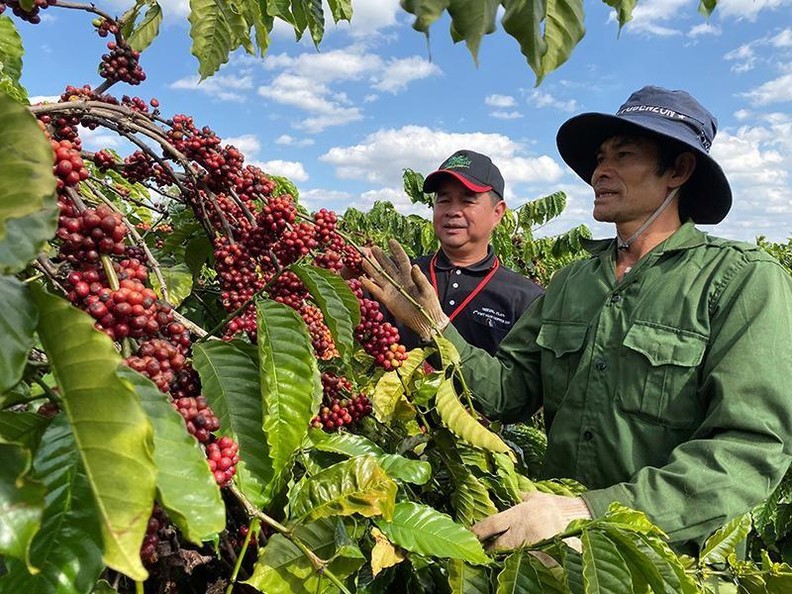 Vietnam has potential to export about 160 million USD of coffee to Sweden.
Sweden imports 305 million USD of coffee each year, but imports only about 5.3 million USD from Vietnam. According to the calculation of the International Trade Centre (ITC), with a 0% tax rate, Vietnam has the potential to export about 160 million USD worth of this item to Sweden.
Regarding wholly milled and semi-milled rice, Vietnam has potential to export another 16 million USD to the Swedish market.
"Rice is a commodity that has achieved impressive growth in Sweden in recent years. Vietnam's rice export turnover to this market only reached 44,000 USD in 2018 but it has increased to over 2.7 million USD in 2021," said Trade Counsellor at the Vietnam Trade Office in Sweden Nguyen Thi Hoang Thuy.
Which direction for Vietnamese agricultural products?
Despite their huge potential, Vietnamese agricultural products have not appeared much in the Dutch market and the Nordic region. Nguyen Thi Hoang Thuy said that Vietnamese businesses only focus on exploiting the traditional Western European markets while the potential of Nordic markets is quite large.
Nhu Nguyen said that Vietnamese businesses must have a long-term strategy and need to take many steps to promote the brand of agricultural products if they wish to bring products to the Dutch market. This is also a weakness of Vietnamese enterprises as they are mainly small or medium in size, with limited capital, technology and experience.
The Director of VIEC Company said that besides meeting the set standards and regulations, businesses need to build trust with customers and consumers to bring Vietnamese agricultural products deeper into the Dutch market. In addition, businesses need to grasp the consumer culture and business culture of partners in the Netherlands.
"In the short term, if Vietnamese businesses wish to export to the Dutch market, they should focus on high-value items as well as maintaining their brands. In the long term, they need to have coordination with partners who understand the Dutch market," Nhu Nguyen noted.
Vietnam has become the 15th largest country in the world and the second largest in Southeast Asia in terms of export turnover of agricultural, forestry and fishery products. According to the Ministry of Agriculture and Rural Development, Vietnam's agro-forestry-fishery production capacity has reached over 140 million tonnes per year, with many products taking the lead in the world market such as rice, pepper, cashew nuts, seafood, vegetables, and fruits, which have gradually shaped the brand and reputation in the world market.
Director of the Department for Agricultural Products Processing and Market Development Nguyen Quoc Toan made several recommendations so that Vietnamese agricultural products can conquer the demanding Nordic market.
He said that it is necessary to choose qualified products with high processing content in addition to paying special attention to packaging, labelling and intellectual property. These tasks require an overall connection between business associations, State management agencies, and trade counsellors.
Toan also proposed Vietnam Trade Offices abroad to build a database system of enterprises in the host countries and importers in each market on the basis of coordination between the Ministry of Agriculture and Rural Development, the Ministry of Industry and Trade, and the trade counsellors.
In addition, he advised businesses to make specific recommendations for the Ministry of Agriculture and Rural Development to build appropriate policies regarding micro-credit, the forming of raw material areas, the establishment of processing facilities for small and medium enterprises, and others.