At a meeting with President Thuong in San Francisco on November 15 afternoon (local time) as part of the Vietnamese leader's trip to attend the APEC Economic Leaders' Week and bilateral activities in the US, Nelson, who is also President of Boeing Global, stressed that the development of the aviation industry will open up many new opportunities for Vietnam and its people.
He expressed his hope that with its experience, Boeing will assist Vietnam in training pilots, technicians, flight service personnel, and aviation safety managers, as well as constructing and operating airports and aircraft maintenance and repair centres.
President Thuong spoke highly of business cooperation between Boeing and Vietnamese aviation enterprises, saying that the cooperation between Vietnam and the US has been strongly advanced with specific projects.
He also emphasised the importance of establishing an aviation ecosystem in Vietnam, saying that this is also an area where Vietnam has demand because the need for air travel among Vietnamese people is increasing.
The State leader showed his desire for more collaborative activities between Boeing and Vietnamese businesses in the future.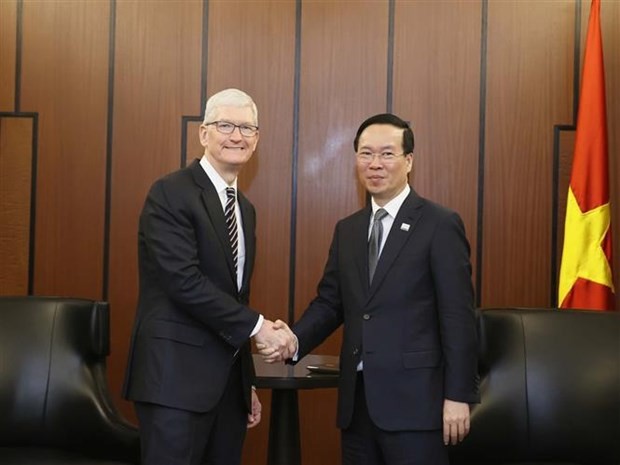 President Vo Van Thuong (R) and CEO of Apple Tim Cook. (Photo: VNA)
The same day, President Thuong hosted a reception for CEO of Apple Tim Cook, during which the Vietnamese leader appreciated Apple for expanding its business and production in Vietnam, saying that Apple's products have provided many opportunities for Vietnamese youths to access and use high-tech devices.
He welcomed Apple's proposals and business strategies, stressing that the upgrade of Vietnam-US bilateral relations to a comprehensive strategic partnership is a great opportunity for Apple to expand its investment activities in the Southeast Asian nation, especially in high-tech industry which is a priority of Vietnam.
For his part, Cook said Vietnam is part of Apple's special business strategy as several products of the firm have been produced in the Southeast Asian nation, including Macbook, Ipad, Apple Watch.
He held that Vietnam's digital economy is thriving, and many leading global electronics and technology companies, including those from the US, are increasingly investing in production and business in the country. Vietnam also possesses high-skilled engineers and technology professionals, Cook said.
The Apple CEO recommended several issues for development in Vietnam, stating that Vietnam needs to continue improving the system of standards for the application of 5G technology, refining the legal framework to support digital economic development, and carefully consider factors related to the application and development of artificial intelligence.
President Thuong affirmed that the Vietnamese State and Government have worked hard to perfect mechanisms and policies, especially improving the country's investment and business environment to facilitate foreign businesses' investment.
Vietnam has made efforts to upgrade telecommunications standards, and improve the legal framework to support digital economic development, digital infrastructure, and digital workforce training, he said, suggesting Apple support Vietnam in these endeavors.
The President called on Apple to pour more investments into Vietnamese localities, especially major provinces and cities, adding that US firms can join the development and application of 5G technology in the country.