During the 16th and 17th centuries, many Chinese migrated to Nuoc Man commercial port area in Tuy Phuoc District, Binh Dinh Province. They not only established busy trading streets but also brought their beliefs, especially worshiping Quan Thanh (Zihuang - a military general of the state of Eastern Wu during the Three Kingdoms period of China) and Thien Hau (a Chinese Goddess of the Sea). Therefore, Ba Pagoda was built during this period. Residents in Nuoc Man commercial port used to come to Ba pagoda to pay tribute to Thien Hau for helping them migrate safely to a new land and pray for a prosperous life.
From the middle of the 18th century onwards, the sea receded away so large ships could not enter Nuoc Man port and it was ruined.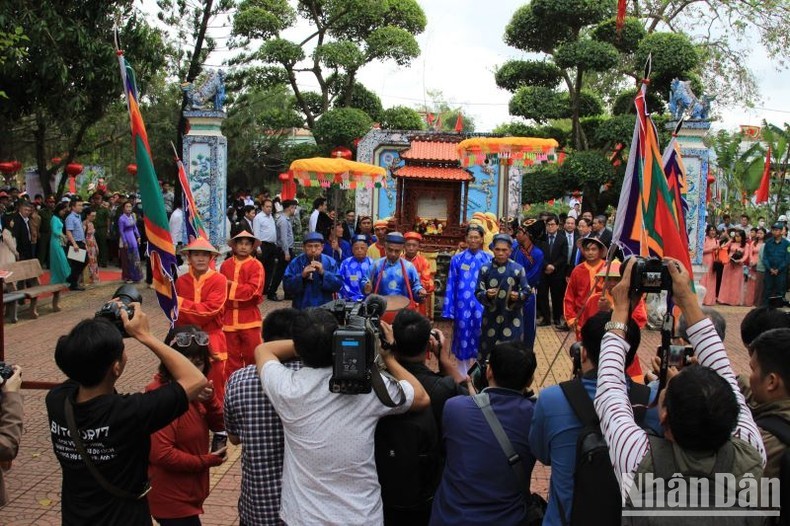 The Ba Pagoda - Nuoc Man Commercial Port is recognised as a national intangible cultural heritage. (Photo: NDO)
Ba Pagoda Festival – Nuoc Man Commercial Port was listed as a national intangible cultural heritage by the Ministry of Culture, Sports and Tourism on August 4, 2022. This is the fourth national intangible cultural heritage of Binh Dinh Province, following Binh Dinh Traditional Martial Arts, hat boi (classical drama) and bai choi (a traditional game combining folklore singing and lottery picks).
This year's festival takes place from February 19-21, featuring many traditional rituals and ceremonies.
During the festival, the locals and visitors can also join many folk games, art and martial art performances.