The event is a meaningful activity responding to World Environment Day (June 5) and the programme on growing 1 billion trees in Vietnam during the 2021 – 2025 period, launched by the Prime Minister of Vietnam, contributing to greening Hanoi, multiplying the international friendship between Vietnam and countries around the world.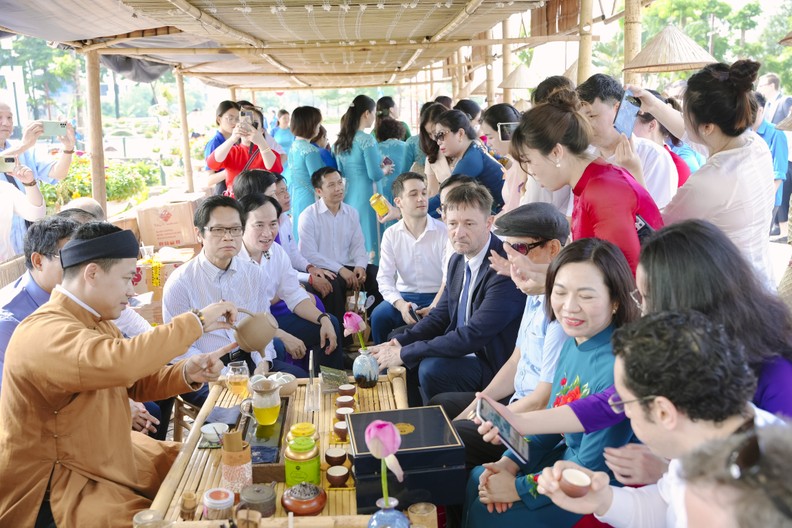 Delegates participating in the Friendship Tree Planting programme.

Hanoi city was honoured as a "City for Peace" and a "Creative City". Especially, in the heart of the city, there is a natural lake with an area of up to 520 hectares, which is West Lake - Hanoi's natural landscapethat lies entirely within the administrative boundaries of Tay Ho District. West Lake is considered the pearl of the capital and the whole country.
Tay Ho District is always the choice of embassies, foreigners working in Vietnam, as well as international tourists.
There are 11 embassies in the district; 18 representative offices of foreigners in the area; and nearly 10,000 foreigners living and working, who have been making important contributions to the development of Tay Ho District in particular and Hanoi capital in general.
Le Thu Hang, Member of the Party Committee of Hanoi, Secretary of the Party Committee of Tay Ho District, Chairman of the People's Council of Tay Ho District, Chairman of the Vietnam - Korea Friendship Association in Hanoi, expressed her hope that the row of friendship trees would beautify the landscape of the space along West Lake, contributing to further tightening international friendship, introducing Hanoi and Vietnamese culture and other countries.
During the ceremony, in addition to participating in the treeplanting programme, the delegates participated in experiencing the national culture and food of Tay Ho's traditional craft such as Xoe dancing, lotus tea and Phu Thuong sticky rice.