Prior to Tet, the H'Mong ethnic households hang the national flag at the main entrance of the house. Meanwhile, women are busy with making costumes for their family members to dress during Tet.
For the H'Mong people in mountainous villages of Son La, the celebration of Tet starts on the day when the ancestor worshiping ceremony takes place.
They believe that everything and trees have a soul, so at the beginning of the lunar new year, they will burn incenses in nine places in the house.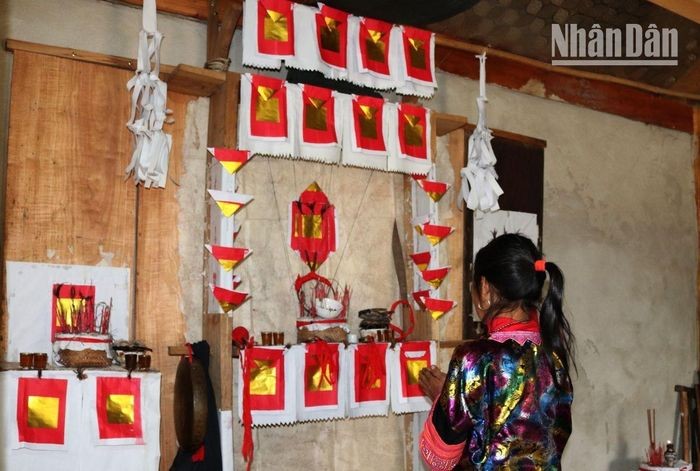 Votive papers pasted on daily labour tools, doors, kitchens, and barn doors.
They also paste votive papers on daily labour tools, doors, kitchens, and barn doors to pray for a new year with favourable weather and bumper crops.
On the last day of the year, H'mong people make 'banh day' (a round glutinous rice cake) and steamed glutinous rice as offerings to their gods and ancestors. The cake is often served with homemade molasses.
The H'Mong people believe that the bigger, rounder and thicker the cake is, the more prosperous their life will become. Each H'Mong family often makes hundreds of 'banh day' to celebrate Tet and gift them to guests to their home during Tet.
Visitors to H'mong people's families during Tet will be invited to try 'banh day' and corn wine.
During the first three days of Tet, the H'Mong people limit vegetables intake as they believe that if they eat veggie, they will only eat vegetables for the entire year. Therefore, the family meals on these days only include 'banh day', rice, meat and wine.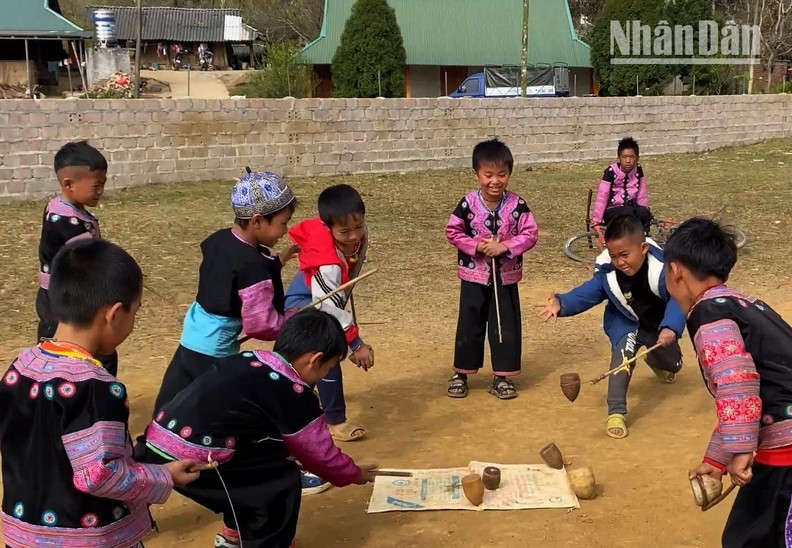 H'mong ethnic boys playing spinning tops
H'mong ethnic people's Tet celebration also includes various community activities and folk games, including 'Pao' throwing. The games are also a way for young H'mong men and women to make friends and have a date with each other.
Another popular folk game of H'mong people is spinning tops, which draws the interest of people ranging from children to elders.