The event features more than 200 pavilions, including 70 selling typical oranges, tangerines and pomelos and 120 trade booths introducing handicrafts from traditional trade villages, products and services from travel companies, cuisine, and products under the One Commune One Product (OCOP) programme.
In addition, visitors have the chance to enjoy cultural, arts and sport activities including folk games, singing contest, ecotourism, and traditional food and drinks.
Speaking at the opening ceremony, Chairman of the Cao Phong District People's Committee Quach Van Ngoan said Cao Phong Orange Festival aims to promote, protect and develop the brand of Cao Phong oranges.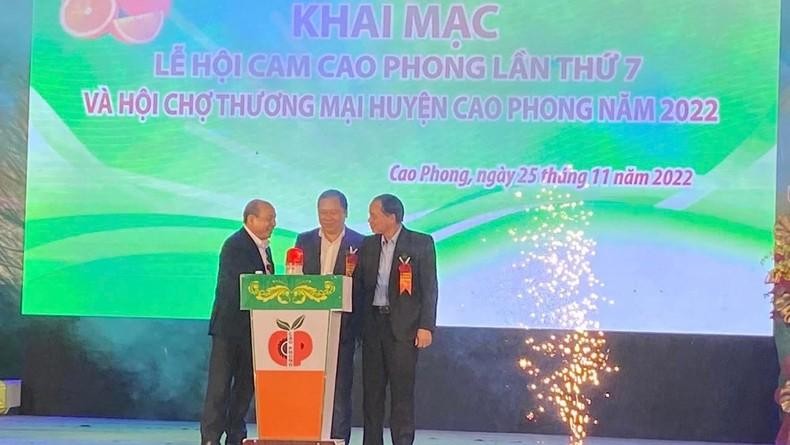 Hoa Binh Province's leaders press a button to launch the festival.
The event offers an opportunity to boost economic and trade promotion, investment attraction and linkages among northern mountainous provinces to promote agricultural products, including specialties of the province and Cao Phong District, he added.
Cao Phong District has synchronously carried out measures and closely followed the orientation of agricultural restructure in association with the construction of new-style rural areas.
The seventh Cao Phong Orange Festival and Cao Phong District Trade Fair 2022 will conclude on December 2.