Accordingly, the main activities of the series of events include a ceremony to receive the ASEAN Tourism Award for the homestay cluster in Nghia Do commune; a beautiful homestay contest; an art photo exhibition themed "The Land and People of Bao Yen"; folk games and a contest to make traditional handicrafts (knitting).
In addition, the series of events held is also associated with the spring rice production calendar in the district, contributing to the good implementation of the goal of developing agricultural tourism, in the direction of community ecology.
According to Tran Trong Thong, Chairman of Bao Yen District People's Committee, the organisation of the event on the occasion of the upcoming holiday, aims to stimulate tourism demand in the locality, gradually create new tourism products and attract tourists, contribute to promoting the potential of community tourism, the cultural beauties of the people of different ethnic groups in the area, in association with the preservation and promotion of traditional cultural values, with tourism development in the locality.
The locality strives that by 2025, the total number of tourists to Bao Yen will reach 2.5 million; revenue from tourism reached 3 trillion.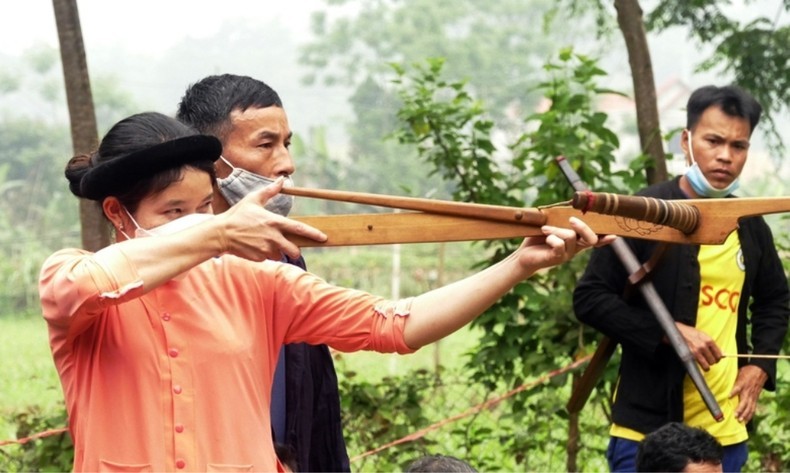 Female Tay ethnic group in a crossbow shooting contest. (Photo: T.L)
The festival promises to bring visitors memorable experiences of Nghia Do – a green, safe and friendly destination; thereby stimulating domestic tourism demand, serving as a premise to link with domestic and foreign units, building inter-provincial tours and routes, to create a brand for eco-community tourism in Nghia Do - a Tay culture conservation area of Lao Cai province.