Commending positive defence cooperation between the two countries in the past year, Chien and Ratner said post-war recovery cooperation has continued to be a pillar and a bright spot in the bilateral relations, helping build trust and foster mutual understanding between the two sides.
Chien took this occasion to thank the US for increasing its non-refundable aid from 183 million USD to 300 million USD for the project to clean up dioxin-contaminated soil at the Bien Hoa Air Base, describing it an important resource to complete the first phase of the project.
Vietnam will continue creating favourable conditions for the search for US soldiers missing in action (MIA) as the two sides are celebrating the 50th founding anniversary of the Vietnam Office for Seeking Missing Persons, and 35 years of the implementation of the joint MIA activities, Chien said.
At the event, the two sides laid stress on the important role of Vietnam and the US in the cooperation framework of the ASEAN Defence Ministers' Meeting Plus (ADMM+), and agreed to continue effective defence collaboration in the fields of delegation exchange at all levels, cyber security, defence industry and UN peacekeeping activities, as well as support each other at regional and multilateral forums, especially ADMM+, making contributions to regional and global peace, stability and development.
As Vietnam and the US will continue working together to handle post-war consequences, Chien suggested both sides to meticulously study the signing of a Memorandum of Understanding in the field based on the joint statement on the upgrade of the bilateral ties to a Comprehensive Strategic Partnership for peace, cooperation and sustainable development.
Chien asked the US to give further aid to Vietnam to speed up the dioxin detoxification project at the Bien Hoa Air Base, which needs an additional 150-200 million USD.
Ratner said he will discuss the issue with the US Congress to seek further support for the project.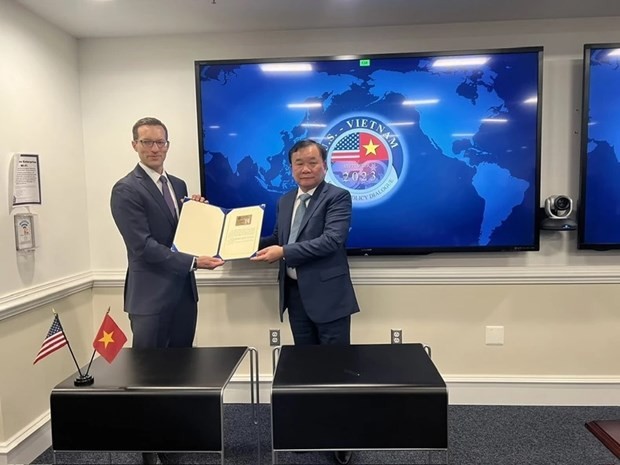 Deputy Minister of National Defence Senior Lieutenant General Hoang Xuan Chien (R) and US Assistant Secretary of Defence Dr Ely Ratner. (Photo: NDO)

Discussing international issues of mutual concerns, Chien and Ratner spoke highly of the role and position of ASEAN as well as ASEAN-led mechanisms, and emphasised the importance of ensuring freedom, security and safety of navigation and overflight in the East Sea.
Vietnam is persistent with its foreign policy of independence, self-reliance, peace, friendship, multilateralisation and diversification, and has pursued a "Four Nos" defence policy, Chien said, adding Vietnam supports the settlement of disputes in the East Sea/South China Sea via peaceful means and in line with international law, including the 1982 United Nations Convention of the Law of the Sea (UNCLOS).