Speaking at the event, MONRE Deputy Minister Vo Tuan Nhan extended his warm congratulations to officials, civil servants, public employees and workers in the environmental industry on the occasion, wishing them good health to make continued devotion to the natural resources and environment sector, thereby contributing to promoting the country's sustainable socio-economic development.
He stated that World Environment Day (June 5) is a meaningful annual event for the natural resources and environment industry and a festival for environmental workers. It was also chosen as the moment to kickstart the Action Month for the Environment.
In recent times, with the support of the Party, Government, central agencies, localities and international organisations, environmental protection work has received remarkable attention from the whole society, with a wide range of activities for a sustainable environment having been simultaneously implemented in a substantive and effective manner, Nhan said.
Delegates symbolically sign for commitment to protecting the nature and biodiversity. (Photo: Baotainguyenmoitruong.vn)

As part of the programme, leaders of MONRE, its affiliates and the VEA symbolically signed their commitment to preserving nature and biodiversity.
Delegates also joined in a bicycle parade with relevant banners and slogans in order to raise awareness of using zero-emission and eco-friendly vehicles and spread a message of environmental protection in the community.
On the occasion, the VEA launched a photo contest on biodiversity conservation and organised a seminar featuring young people and their work on preserving nature and biodiversity.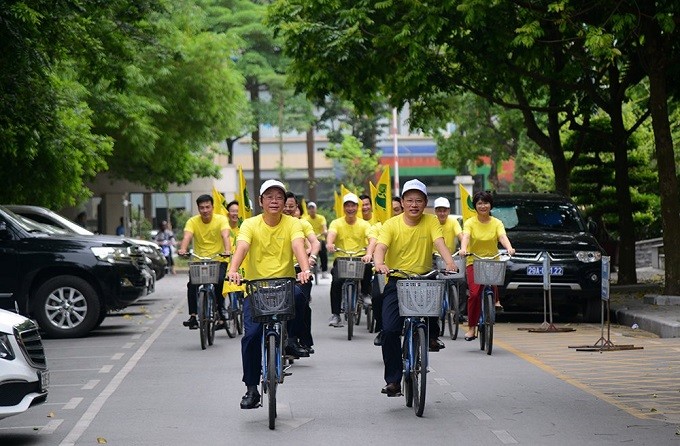 MONRE Deputy Minister Vo Tuan Nhan, VEA Director Nguyen Van Tai and delegates join in a bicycle parade to spread the message of environmental protection. (Photo: Baotainguyenmoitruong.vn)
Particularly, MONRE coordinated with the Thua Thien Hue Provincial People's Committee and relevant units to announce the establishment of the Tam Giang-Cau Hai wetland conservation area in the province.
Vietnam has been recognised as one of 16 highly diverse countries in the world. There are currently 173 protected areas across the country covering more than 2,500 hectares, including 33 national parks, 66 natural reserves, 18 species and habitat conservation areas, and 56 landscape protection areas.
Radiant joy seen on the face of environmental workers. (Photo: Baotainguyenmoitruong.vn)
Vietnam now has nine Ramsar sites with a total area of over 120,000 hectares, in addition to 10 marine conservation areas on 188,000 hectares and nine areas recognised as World Biosphere Reserves covering more than 4.2 million hectares. In 2019, four more protected areas in Vietnam were recognised as ASEAN Heritage Parks by the ASEAN Secretariat, bringing the total number of ASEAN Heritage Parks in the country to 10.