A wide variety of practical activities will be held during the week, including the tours to Ba Be Lake – a special national relic space, enjoying unique dishes of ethnic minority groups, the products under the One Commune One Product (OCOP) programme, tours to famous fragrant courgette fields in Yen Duong and Dia Linh Communes of Ba Be District, and experiences at the cultural spaces of Tay, Nung, Mong and Dao ethnic minority groups in Bac Kan Province.
Through the activities during the week, Bac Kan Province wishes to combine cultural, sports, tourism and trade activities, to promote the unique cultural values of the province, as well as its potential tourism towards attracting more investment into the locality.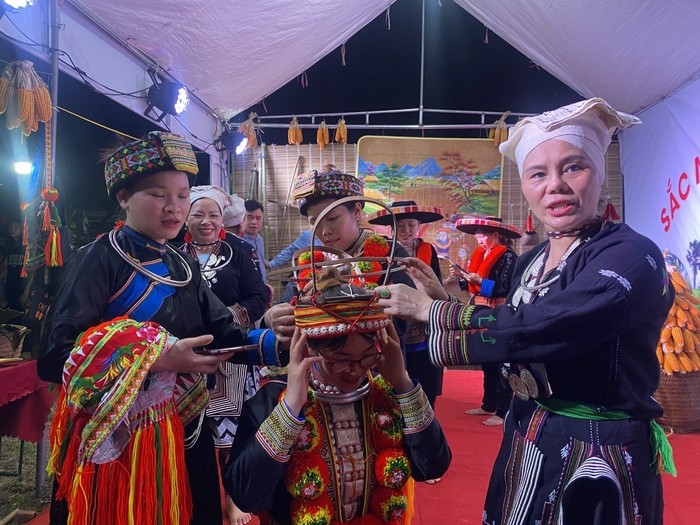 The cultural features of ethnic minority groups in Bac Kan Province are introduced during the week. (Photo: hanoimoi.com.vn)
Speaking at the opening ceremony, Vice Chairman of Bac Kan Provincial People's Committee Pham Duy Hung said, the province has always determined that the tourism industry plays an important role in promoting socio-economic development and contributing to preserving and promoting the cultural values and identity of ethnic minorities, in Bac Kan Province.
Bac Kan has been striving to build the brand of "Bac Kan – an attractive and friendly destination" in the hearts of domestic and international tourists. According to statistics, the total number of tourists to Bac Kan in 2022 reached 461,000, and the total revenue from tourism activities was 441 billion VND. In the first 4 months of 2023, the province welcomed 477,000 tourists, with the total revenue reaching over 450 billion VND.