The statement was made by Minister of Culture, Sports and Tourism Nguyen Van Hung, at the "Vietnam Tourism Roadshow" that was held in Seoul, the RoK, on October 17.
The event was within the framework of the Vietnam Tourism and Culture Festival in the RoK, celebrating the 30th anniversary of diplomatic ties.
Minister Hung said along with the development of their diplomatic relations, the cooperation in tourism between Vietnam and the RoK has been strengthened and made great progress.
Many cooperation and tourism promotion activities, within bilateral and multilateral frameworks, have been implemented effectively, attracting the participation of many tourism agencies, associations and businesses from the two countries, he added.
He also noted that Vietnam is a developing country with rich and diverse cultural resources that are imbued with national identity. Following the pandemic, Vietnam has been known as a safe, friendly, gentle and hospitable destination.
Speaking at the event, the Vietnamese Ambassador to the RoK Nguyen Vu Tung, said in recent years, the two sides have created favourable conditions for people from the two countries to travel to each other, promoting both people-to-people exchange and tourism.
The RoK is the leading investor in Vietnam and the second-largest trading partner of Vietnam. The RoK is also the second largest provider of official development aid (ODA) to Vietnam.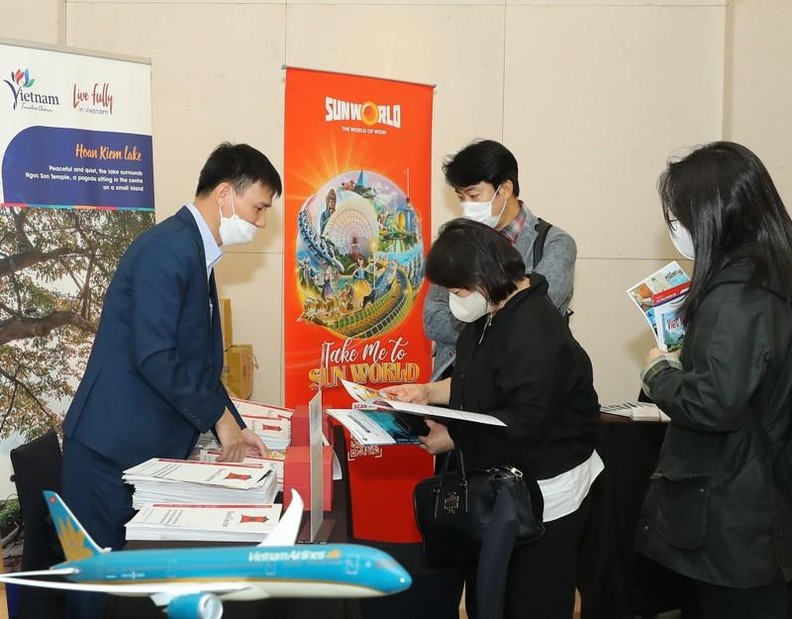 The event attracts a large number of the RoK visitors. (Photo: Ministry of Culture, Sports and Tourism)
At the event, the representative from the Vietnam National Administration of Tourism gave an overview of Vietnam's tourism. In addition, major corporations and enterprises such as Vietnam Airlines, Sun Group, Saigontourist Group and Vietravel, also introduced Korean delegates and businesses to their new and attractive tourism products.
The enterprises from the RoK also promoted new tourism products in line with the post-COVID-19 trend.
In the context that the tourism sector has been trying to revive its activities, the "Vietnam Tourism Roadshow" in the RoK has special significance. It is expected to strengthen market reconnection, update information on tourism policies and products and attract more RoK tourists to Vietnam shortly, contributing to the recovery of the international tourism market.