The event was attended by Oh Young Ju, the Ambassador of the Republic of Korea; Kim Han Yong, the president of KORCHAM; Jang Eunsook, the president of Korean Association in Hanoi.
As an annual year-end event organised by KOICA since 2000, the event is a reception to appreciate KOICA's partners and celebrate the friendship between Korea and Vietnam where KOICA fellows act as a mediator between the two countries.
After two years of suspension of the 20-year-old event due to Covid-19, "2022 Vietnam-Korea Friendship Night" is even more meaningful in the context of the two countries celebrating the 30th anniversary of the establishment of diplomatic relations.
During the event, Pham Minh Son, Rector, Academy of Journalism and Communication, shared his experience on "Capacity Enhancement on Implementing Government's Policies of the Academy of Journalism and Communication of Vietnam (phase 2)" in the Republic of Korea.
Cho Han Deog, the Country Director of KOICA Vietnam Office and the host of the event expressed his hope that "Vietnam - Korea Friendship Night" would always be a bridge connecting partners for the development of Vietnam."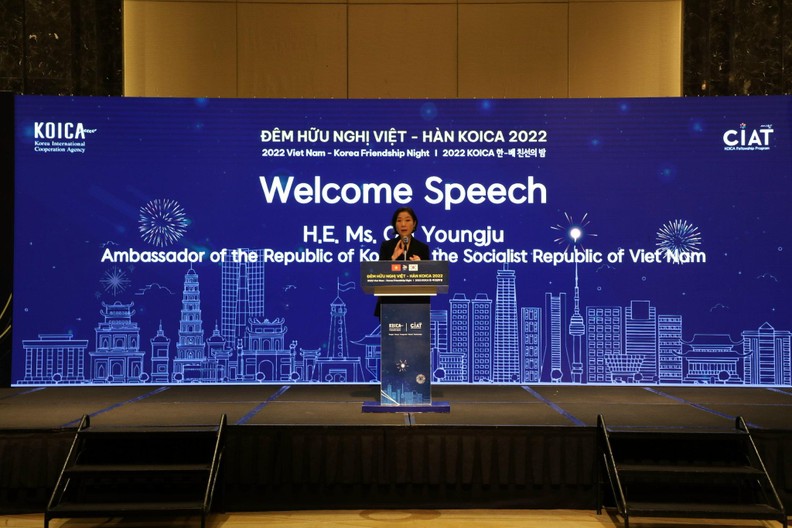 Oh Young Ju, The Ambassador of the Republic of Korea in Vietnam
The Ambassador of the Republic of Korea in Vietnam said in her remark that "Vietnam-Korea Friendship Night 2022" was also an occasion to celebrate the friendship between Vietnam and Korea over the past 30 years. I would like to emphasise once again the role of your Vietnam-Korea development cooperation partners at today's Vietnam-Korea friendship night in helping us build for the future. In the future, I hope our friendships will grow even closer."
The KOICA is a governmental organization for the administration of development cooperation of the Republic of Korea. KOICA Vietnam Office operates under the Framework Agreement on Grant Aid between the Government of the Republic of Korea and the Government of the Socialist Republic of Viet Nam signed on May 29th, 2009.
KOICA makes every effort to contribute to the socio-economic development of Viet Nam through customized projects and programs in line with the National Socio-economic Development Strategies and Plans.
Pursuing the mission of 'Leaving no one behind with People-centered Peace and Prosperity for Vietnam', KOICA strives to deliver it through various types of projects and programs such as Project, Civil Society Cooperation Programme, Inclusive Business Solution Program, Creative Technology Solution Programme, Fellowship Programme (CIAT) and World Friends Korea (WFK).
KOICA Vietnam Office is currently carrying out dozens of projects in collaboration with both central and local governments and other development partners to help make the country's development more inclusive, equitable and environmentally sustainable.