The upgrade of the 411km section, part of a project on renovating the Hanoi - Ho Chi Minh City rail route, has a total investment of nearly 1.1 trillion VND (46.8 million USD) funded by the state budget, and it traverses the provinces of Khanh Hoa, Ninh Thuan, Dong Nai and Binh Duong, and HCM City.
Addressing the launch, PM Chinh said developing comprehensive infrastructure, especially transport one, is a top priority of the Party and State and also one of the three targeted strategic breakthroughs.
He highlighted the important role of rail transport throughout the country's history, noting that rail transport holds many advantages and is critical to socio-economic development, defence, and security safeguarding.
Developing transport infrastructure, including railways, is a task of not only the Transport Ministry but also other ministries, sectors, and localities, the PM noted, affirming the Government's consistent attention and strong directions to ensure progress and quality of transport projects.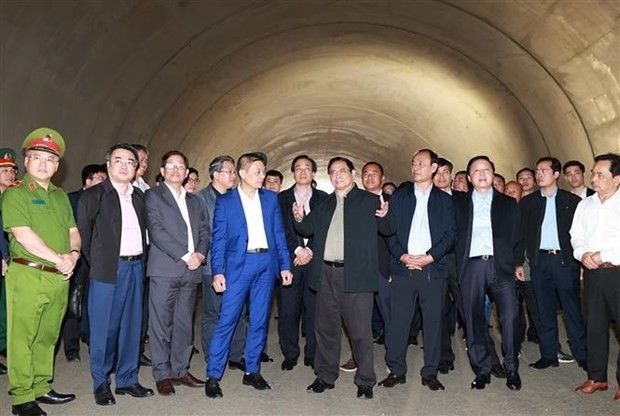 PM Pham Minh Chinh (front, centre) and other officials inspect the building of Nha Trang - Cam Lam Expressway on January 26. (Photo: VNA)
The same day, PM Chinh examined the construction of Nha Trang - Cam Lam Expressway, part of the North - South Expressway project, in Khanh Hoa.
Nha Trang - Cam Lam Expressway is over 49km long, from Dien Tho commune of Dien Khanh district to Cam Thinh Tay commune of Cam Ranh city.
The road is invested with over 5.5 trillion VND through public - private partnership, including nearly 3 trillion VND from the state budget and 2.5 trillion VND from the Son Hai Group. Its construction started in September 2021.