Sitting at an altitude of thousands of meters above sea level, the Phuong Hoang mountain range is covered with primeval forests, helping the local climate stay fresh all year round.
On the top of the mountain range is Phuong Hoang Cave, and at the foot of the mountain is Mo Ga Stream. The mountain is also home to rustic and friendly villages of Tay and Nung ethnic minority groups.
The combination of natural landscapes and traditional culture makes the area an attractive tourist site for visitors to Thai Nguyen Province.
At Mo Ga Stream, fresh water runs from a cave inside the heart of the rocky mountain, forming a waterfall pouring down large blocks with white foam and then winding through reefs like a soft silk strip. All of this creates a charming and picturesque landscape.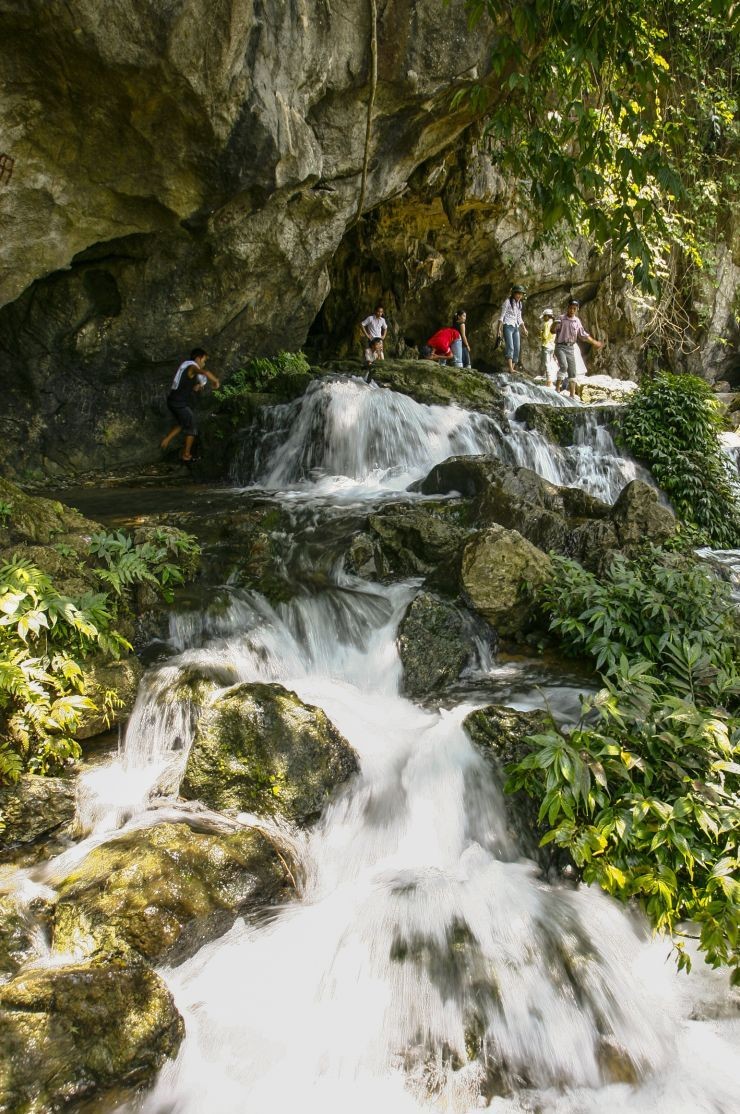 Mo Ga Stream is an alluring place for tourists to hide away from the summer heat. (Photo: Tung Duong)
On hot summer days when the outdoor temperature is up to 39-40 degrees Celsius, the atmosphere in Mo Ga Stream still stays cool at only about 21-22 degrees Celsius. The temperature inside the cave is even lower, like a giant "refrigerator" in the mountain. As such, it is an alluring place for tourists to hide away from the summer heat.
Nong Van Hong, a representative from the Phuong Hoang tourist area management board, said that an expedition team from the UK recently made a trip to Mo Ga Cave. They determined that this cave is several hundred meters in width and length, and poses great potential for adventure tourism.
The management board has built houses on stilts in the traditional architectural styles of local people to serve visitors. At the houses, tourists can enjoy traditional musical performances and taste signature dishes of local Tay and Nung ethnic groups.
Phuong Hoang Cave is nearly 1km from Mo Ga Stream. Travellers have to climb more than 1,000 stairs following the slopes of the Phuong Hoang mountain range under the forest canopy to reach Phuong Hoang Cave, which houses magnificent and splendid stalactites of various shapes and sizes.
Duong Van Toan, Vice Chairman of Vo Nhai District People's Committee, revealed that Phuong Hoang Cave was once used as a place to hide weapons and shelter of local people during the resistance war.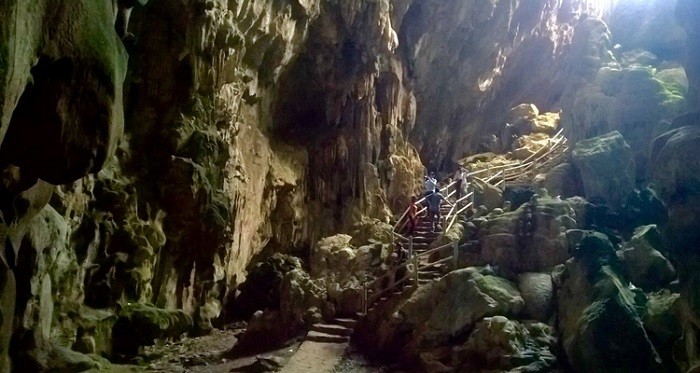 Inside Phuong Hoang Cave (Photo: dulichvietnam.com.vn)
Looking down from the entrance of Phuong Hoang Cave, visitors can admire villages of Tay and Nung ethnic groups with houses traditionally built on stilts.
Recently, a Phu Thuong community-based tourist site was inaugurated in Vo Nhai District to welcome tourists and contribute to developing the local socio-economic situation.
Nguyen Van Tuyen, Deputy Director of the Management Board of Forests in Thai Province, said that the Thai Nguyen Provincial People's Committee has approved the project on developing eco-tourism in the Than Sa-Phuong Hoang nature reserve in the 2022-2030 period.
The project targets to unlock tourism potentials of Phuong Hoang tourist area and boost the development of the Phu Thuong community-based tourist site, thus contributing to promoting Thai Nguyen image, giving a facelift to the province, creating more jobs, and improving the living conditions of the local people.