In the capital city of Hanoi, popular tourist sites, such as Thang Long Imperial Citadel, Temple of Literature, and Tran Quoc Pagoda have been crowded with locals and visitors.
Over the past five days, a large number of domestic and foreign tourists have flocked to Sa Pa Town and the districts of Bac Ha, Si Ma Cai, Bat Xat, and Bao Yen in the northern province of Lao Cai, which boasts beautiful natural landscapes and rich culture of ethnic minority groups.
Of which, Sa Pa town is expected to welcome 80,000 to 100,00 holidaymakers during the week-long Tet festival.
Meanwhile, tourist attractions in the Mekong Delta province of Tien Giang, such as Thoi Son Islet and Ba Duc Ancient House, have witnessed a significant increase in number of vacationers.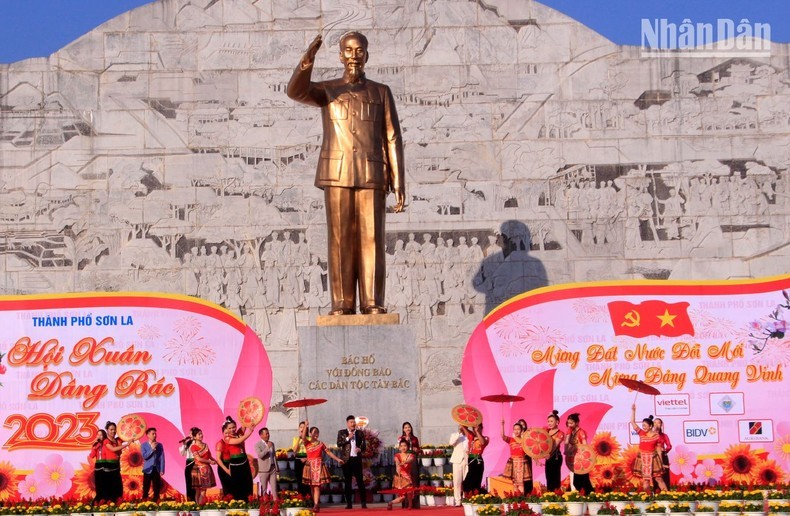 A performance at the spring festival in Son La Province
A spring festival opened in Son La Province on January 25, featuring a wide range of cultural, arts and sporting activities.
The highlight of the festival was a mass 'Xoe' folkdance, during which more than 1,200 performers held hands to create a giant circle representing the great solidarity of ethnic groups in the northwest region.
In Can Tho City, the flower street at Song Hau Park and Ong Lang Street in Phong Dien District are among the most favoured check-in places for locals and visitors.
The Phu Yen provincial tourism sector also recorded a promising start for the Year of the Cat as it greeted around 94,920 holidaymakers over the first five days lunar New Year, 10.5 times higher than the same period last year.
The locality pocketed 132.8 billion VND in tourism revenue over the past five days, 12.4 times higher than the same period in 2022.