In 2021, business household Luong Duc Toan, Hiep Cuong Commune, Kim Dong District has 4 OCOP products recognised with 4 stars, including black bean sprout tea, red bean sprout tea, cereal sprout tea, bean sprout powder.
Luong Duc Toan said the OCOP programme has brought positive values, contributing to raising the product brand. In order to maintain the market and brand reputation in the coming time, he will continue to invest in technology and machinery to improve the quality and design to affirm the brand name for these products.
Currently, Ne Chau Longan Cooperative, Hong Nam Commune, Hung Yen City has 4 OCOP products; in which, longan products and longan flower honey are rated 4 stars, lotus seeds and tapioca products are rated 3 stars.
According to Director of Ne Chau Longan Cooperative Trinh Thi Bac, the cooperative's post-processed agricultural products have been present in many localities and on e-commerce platforms across the country, facilitating the consumption of goods.
In the coming time, Ne Chau longan cooperative will continue to support its members and people to apply technology in growing and caring for longan according to VietGAP process in order to build a good raw material area and create prestigious products, ensuring food safety standards when reaching consumers.
Hung Yen Province currently has 59 craft villages operating in the field of handicrafts, 350 cooperatives operating in the field of agriculture; 729 farms and a number of large-scale concentrated commodity agricultural production areas have developed quite comprehensively in the direction of increasing productivity and improving quality such as: fruit-producing regions, high-quality rice production areas, safe vegetable production areas, raw vegetables for processing. These are advantages for organisations and individuals producing traditional products and services to have the advantage of participating in the OCOP programme, creating valuable and competitive products in the market.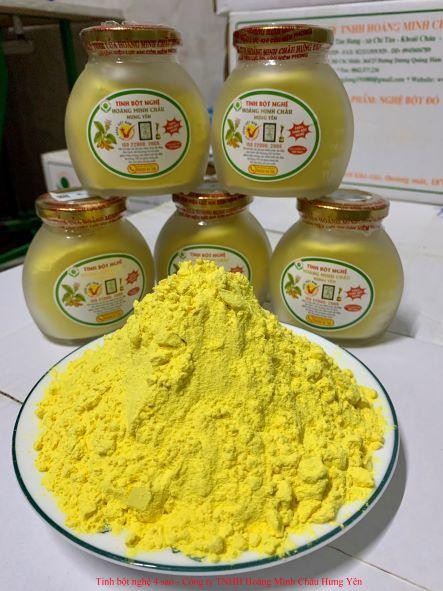 Turmeric powder product of Hoang Minh Chau Hung Yen Co., Ltd., Chi Tan Commune, Khoai Chau District.
Levels, branches and localities have also focused on supporting organisations and individuals to participate in the OCOP programme with specific solutions such as: orientation for consulting on upgrading and perfecting products in the direction of quality standardisation; managing and monitoring quality standards; training support, technical guidance, branding, trade promotion, product promotion...
On that basis, many businesses, production facilities, cooperatives have focused on investing in improving quality of products to meet standards of quality, design, food safety and environmental regulations.
By the end of 2021, Hung Yen province has 140 OCOP products, notably nanocurcumin, turmeric starch, turmeric powder of Hoang Minh Chau Hung Yen Co., Ltd., Chi Tan Commune, Khoai Chau District; Dong Tao chicken of Dong Tao chicken farming and trading cooperative, Dong Tao Commune, Khoai Chau District; Longan fresh fruit of Longan Mien Thiet cooperative, Ham Tu Commune, Khoai Chau District; Longan flower honey, Royal jelly of Danh Vi Honey Co., Ltd., Me So Commune, Van Giang District; Cantaloupe of An Thinh Phat vegetable and medicinal plant production and supply cooperative, Tong Tran Commune, Phu Cu District...
Typical OCOP products of Hung Yen province is focused on investing in machinery, equipment, net house system, infrastructure, applying advanced science and technology, etc. One of the top criteria of OCOP is to bring local characteristics associated with the production organisation, to form concentrated and large-scale commodity production areas associated with the construction of raw material areas.
Currently, the growing areas of longan, banana and turmeric are concentrated in Khoai Chau, Tien Lu, Phu Cu Districts and Hung Yen city, the construction of raw areas according to organic standards associated with OCOP has been interested by localities. The thinking of many subjects has changed to be autonomous in controlling the local raw material area, creating a foundation to improve the value and brand of the product to meet the increasing demands of the market.
The self-reliance in production materials has helped a number of OCOP products of the province to export such as: turmeric powder of Hoang Minh Chau Co., Ltd., Chi Tan Commune, Khoai Chau District; lotus seed and longan products of Lai Hoai Co., Ltd., Hong Nam Commune, Hung Yen city; fresh longan of Quyet Thang specialty fruit tree cooperative, Tan Hung Commune, Hung Yen city...
In 2022, Hung Yen province strives to have from 30 to 40 more products, product groups are evaluated and graded OCOP products from 3 stars or more. In order to form and develop concentrated, large-scale and stable raw material areas, over the past time, Hung Yen Provincial Department of Agriculture and Rural Development has implemented policies to encourage agricultural development in the province.
In which, importance has been attached to promote the formation and development of concentrated and large-scale commodity production areas associated with product preservation, processing and consumption; accumulate and concentrate land to develop agricultural production; supporting the main crops and livestock for concentrated production; apply solutions on science - technology, digital transformation to develop and control the quality of raw material areas of OCOP products.
According to Director of Hung Yen Rural Development Sub-Department Le Van Thang, after being recognised as OCOP products, some typical products of the province have expanded their consumption markets into supermarkets and restaurants, contributing to increase product value and revenue. In the coming time, the sub-department will continue to implement policies and solutions to develop OCOP products and raw material areas for OCOP products, contributing to raising people's incomes and promoting economic restructuring in the rural areas.