The festival included a range of traditional rituals, such as a procession from the heart of Trang An commune to the pagoda, a drumming and bell-ringing ritual, an incense offering and prayer for peace and happiness, for the country and people.
Coming to the festival, locals and visitors will have the chance to enjoy attractive art performances and take part in cultural and sports programs, as well as folk games during the event.
Located at Trang An commune, Dong Trieu town, Quynh Lam pagoda was built in King Ly Than Tong Dynasty by (1116-1138) Quoc su Nguyen Minh Khong. The conservation work of the pagoda was completed in the late Ly-Tran dynasty.
In the Tran Dynasty, run by Phap Loa Abbot, Quynh Lam Pagoda became the training centre of Truc Lam Zen. He was a great contributor to building and expanding the Pagoda into Quynh Lam Monastery, with separate areas of the pagoda, school, and monastery, developing the pagoda into a large Buddhist centre for the whole country.
Quynh Lam pagoda used to be a resistance base in Dong Trieu town. It has been destroyed many times, leaving only some remnants until now.
On the same day, the People's Committee of Ha Quang district, Cao Bang province, organised the Pac Bo festival 2023.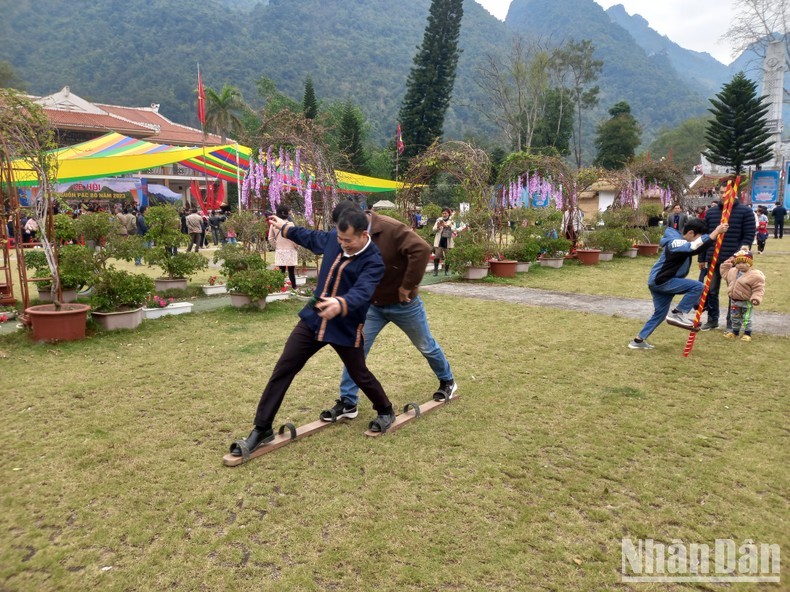 The visitors participating in the folk games.
The festival includes an array of activities, including a water procession and offering ritual, at a temple dedicated to President Ho Chi Minh, folk art performances, cake-making contests and traditional sports competitions, among others.
The event hopes to help local people restore and conserve traditional cultural values, and promote images of the UNESCO-recognised Non Nuoc Cao Bang Geopark, thereby fostering the province's tourism.
Pac Bo historical relic is closely connected to the revolutionary activities of President Ho Chi Minh, particularly when he returned home from abroad, through Truong Ha commune of Ha Quang district, in early 1941.