Vietnam has a total registered investment of 5.34 billion USD in Laos, making it one of the three biggest foreign investors here. Meanwhile, Laos has continually been the top destination among the 79 countries and territories Vietnamese businesses have invested in.
In 2021, Vietnam invested 118.3 million USD in Laos, up 33.3% year on year. The figure stood at 180 million USD in 2022, rising 52.5%.
Meanwhile, Laos is running 10 investment projects worth over 71 million USD in Vietnam.
PM Sonexay Siphandone said the Lao Government welcomes opinions and is ready to seek solutions to help Vietnamese investors overcome difficulties and operate profitably.
The Lao Government will assign its Ministry of Planning and Investment to overhaul foreign investment policies and procedures, create a favourable and fair investment climate, improve the readiness to help enterprises effectively carry out projects, and tackle investment and business bottlenecks.
Ministries, sectors, and agencies of Laos will continue providing optimal conditions for major Vietnamese investors in the fields matching its strength and potential, including clean and hi-tech agriculture, renewable energy, services, tourism, and logistics, he added.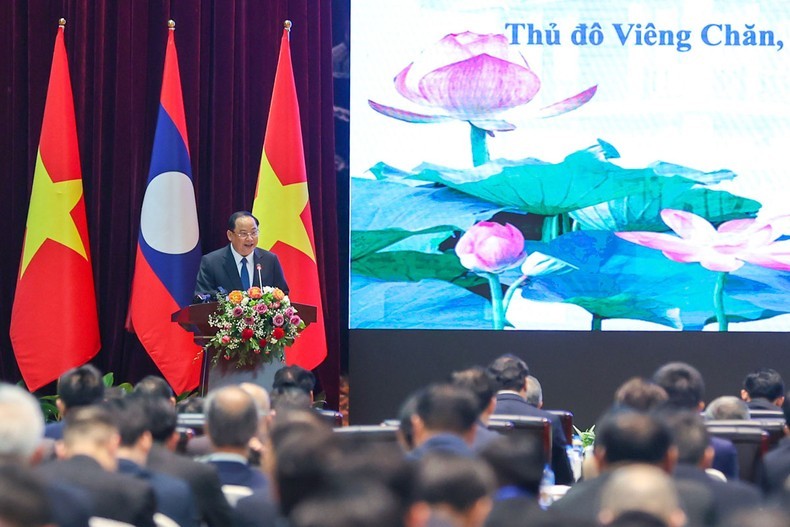 Lao PM Sonexay Siphandone speaks at the event.
In his remarks, PM Chinh applauded efforts by the two business circles to surmount difficulties and challenges to contribute to socio-economic development in each country.
However, he also pointed out that despite huge potential, bilateral economic ties have yet to match the special relations between Vietnam and Laos.
He held that the two Governments should perfect regulations and consistently implement policies to facilitate bilateral investment; maintain political stability, independence, sovereignty, and territorial integrity; create an open investment climate; and provide investment incentives for priority fields. They should also assist each other to build independent and self-reliant economies that actively, extensively, substantively, and effectively integrate into the world.
PM Chinh also asked Vietnamese firms operating in Laos to compete fairly, adhere to local laws, join hands with the two Governments to perfect relevant regulations, and help implement political and social security tasks, thus contributing to the countries' solidarity and friendship.