Each cave in Phong Nha-Ke Bang National Park is a distinguished wonder, with unique and mysterious geological formations that make the adventure journeys of tourists even more interesting and unforgettable.
Located in the Phong Nha-Ke Bang National Park complex, Son Doong Cave is considered by world geological scientists to be the largest natural cave on the planet. This has helped Son Doong establish itself as a wonderful masterpiece of nature and a magnetic destination for adventure tourism.
Notably, only 1,000 guests are allowed to join the Son Doong expedition tour per year, so the tours tend to sell out quickly.
While a tour to Son Doong Cave is the dream of millions of adventure lovers around the world, En (Swallow) Cave — the third largest cave in the world and the gateway to Son Doong — is considered a must-see natural wonder for visitors to Quang Binh province.
An adventure to En Cave provides tourists a special experience that they could have in very few places as they can enjoy one-night camping inside the cave amidst the wild and majestic beauty like a trip to prehistoric times.
The camping site is set up in the heart of the cave, next to a cool and blue underground lake. Tourists can freely swim or relax on the sand to admire countless swallows fluttering in the cave.
In addition, participants can also experience a diverse trekking route with steep hills, flat roads, rivers, and streams covered by tropical jungles, promising to bring about many big wows along the way.
In 2022, Quang Binh Province allowed the operation of tours to Ba Cave — a strictly protected area within the Phong Nha Ke Bang Park. This is a pristine forest with ancient trees and a habitat for many rare animal species.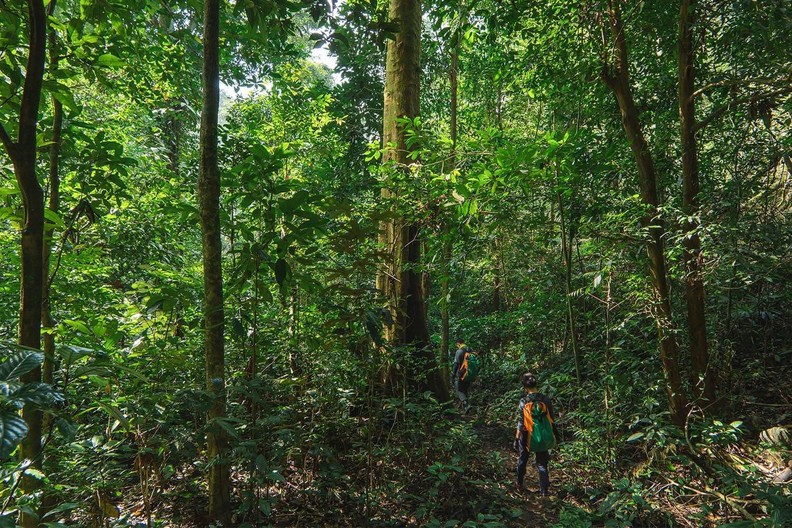 Tourists trekking under the canopy of ancient trees as part of Ba cave deep jungle expedition (Photo: oxalisadventure.com)
During the tour, visitors will have the opportunity to travel through nearly 95% of the road under the canopy of hundreds of years old primeval forest in Phong Nha-Ke Bang National Park, observing footprints and traces of wild animals. When seen in this way, visitors do not disturb or have any impact on the life and living habits of wild animals.
During the Ba Cave jungle expedition, visitors can camp at three camping sites, which are located far away from the walking and drinking water areas of wild animals to avoid disturbing them. This is also the only tour where tour operator reserves the most beautiful places for animals to live instead of setting camping site for customers.
Another favourite adventure tourist product in Phong Nha Ke Bang is the tour to Kong Collapse. This is a completely different experience as visitors must use a rope to drop down from the entrance of Kong Collapse, camp out inside a sinkhole, swim to explore Tiger Cave, admire the magnificent stalactite system in Over Cave, and sleep overnight in Pygmy Cave — the 4th largest cave in the world.
Director of Jungle Boss Company Le Luu Dung said that before their journey to conquer the Kong Collapse, visitors must practice rope swing techniques under the instruction of cave experts.
Le Nguyen Cao Nguyen, a visitor from Ho Chi Minh City shared that those who love adventurous tourism should definitely visit Quang Binh Province.
He revealed that he had been to Phong Nha twice, but this third time he was truly overwhelmed by the endless beauty of nature and creation of the area when conquering the Kong Collapse and swinging on a rope.
"From above limestone cliffs, with a seat belt system, I flied in mid-air, admiring the cave landscape, then drop deep into the hole. It is an extremely adventurous feeling," he said.

A campsite inside En cave (Photo: oxalisadventure.com)
International explorers believe that the Phong Nha-Ke Bang National Park has thousands of large and small caves, but just over 350 of them have been surveyed and explored so far, with a total length of 223km.
This is a favourable condition for Quang Binh to develop eco-tourism, nature exploring experience, and especially adventure tourism.
According to the Quang Binh Provincial Department of Tourism, there are currently many adventure tourism operators in Phong Nha-Ke Bang National Park, but two most prominent names are Oxalis and Jungle Boss.
The development of adventure tourism not only creates diversity in tourism products but also become a highlight for Quang Binh Province's hospitality sector, helping to affirming its position on the tourist map of Vietnam.
A representative from Oxalis tour operator revealed that the company has classified their adventure tours in six levels of difficulties based on the time, schedules, and physical conditions of visitors.
For example, tours at Level 1 are considered easy and are suitable for small groups of family or friends who want to return to nature and relaxing experiences during their vacation such as taking boat on the river or kayaking to explore caves.
But tours at Level 6 are hard; Visitors can experience a trip to conquer Son Doong — the world's largest cave and a dream destination for those who love to explore and adventure.
Meanwhile, Jungle Boss currently operates seven adventure tours with many different levels.
The development of adventure tourism not only creates diversity in tourism products but also become a highlight for Quang Binh Province's hospitality sector, helping to affirming its position on the tourist map of Vietnam.