The exhibition will open at 5:30 pm on May 7 at the Vietnam University of Fine Arts, 42, Yet Kieu Street, Hoan Kiem, Hanoi and lasts until the end of May 20.
The painting is the result of ten years of tireless work by Minh, efforts which began with a brainstorming process and finished with the completion of the project at the end of 2021.
It took Mai Duy Minh ten years to complete "Dien Bien Phu"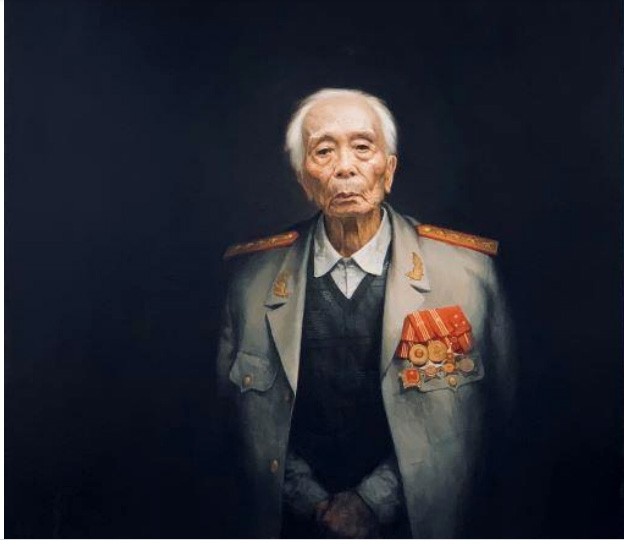 The oil painting "General Vo Nguyen Giap" took four years to complete and is 89x89cm.
In addition, the exhibition also introduces a large portrait of General Vo Nguyen Giap, also with oil on canvas painting. The second, named "General Vo Nguyen Giap", has a scale of 89x89cm and was completed over four years from 2017 to 2021.
A sketch on display at the exhibition.
At the exhibition, the artist also displays 86 of Minh's sketches made in pencil, ballpoint pens, iron pens and oil in different sizes, showing the artist's long journey.
A sketch he recorded from his travels.
As a person born and raised in peace, Minh's trips to Dien Bien to meet with veterans, as well as reading documents relating to the nine-year-long resistance war were his way of searching for the ideas and inspirations needed to complete the artwork.
Mai Duy Minh was born in 1976, in Hai Phong. He previously had two solo exhibitions: "Bui doi" (Dust of Life) in 2006 at Goethe-Institut and "To Hop Khong Gian" (Space Complex) in 2002 at the Atena gallery, as well as several group exhibitions.
In 2010, he received an award from the Vietnam Fine Arts Association.