The national contest and exhibition on sculptures within five years is expected to be held by the Department of Fine Arts, Photography and Exhibition under the Ministry of Culture, Sports and Tourism in Hanoi in September. This is a playground for artists and sculptors to exchange and announce their new works and creation views.
However, through many exhibitions, the method of organisation and display has revealed limitations and unprofessionalism, which can catch up with professional sculpture exhibition activities.
Therefore, it has been difficult for the exhibitions to gather good authors and works, leading to the problem that the number of participating works has not reflected the true nature and sculptural capacity of today. The short exhibition time leads to the sculptures not promoting their artistic value.
Many opinions said that the Art Council and managers are lagging behind contemporary art in the world and lack connection with contemporary activities as well as the artists who are active and professional in their compositions.
Looking at the current reality, it is difficult for sculpture arts to "take off" to reach the public because their interest in sculpture is not as great as with other art forms. Sculptures are associated with space and location, so sculptors have limited opportunities to display and introduce works to the public.
Looking at today's creative life, although the fine arts industry possesses a powerful force of sculptors who are rich in ideas, diverse languages and materials as well as are eager and full of energy to explore shaping and application of flexible materials. Several outstanding names are Tran Van An, Nguyen Ngoc Lam, Pham Bao Son, and Nguyen Duy Manh. However, their works have not been released to the public spaces for the public.
Looking back to more than 20 years ago, the model of a sculpture camp was organised to gather sculptors. This was an opportunity for sculptors to make works outdoors. However, due to lack of long-term vision and orientation, following the exhibitions, the works were unable to promote their values.
Until 2015, a national sculpture exhibition was held at Flamingo Dai Lai art space as a breath of fresh air in the organisation of creative camps for artists, providing abundant inspiration for them to create.
Large-sized sculpture works were placed in natural landscapes in the middle of natural mountains and forests, promoting the beauty of the works and bringing a visual effect to the public who enjoy sculpture outside.
The Flamingo Dai Lai art space has also become a preservation place and living environment for sculptures and connected people with arts.
Sculptor Tran Trong Tri, a lecturer from Vietnam Fine Arts University, said: ""The Flamingo Dai Lai Sculpture Camp is a model that has promoted the values of the works and are suitable to express the voices of sculptors as well as professionals. Sculptors can fully express their ideas and propose materials and sizes of works and have received full investment in resources and spaces to showcase their ideas".
The Flamingo Dai Lai art space has also become a preservation place and living environment for sculptures and connected people with arts.
Despite being considered a pioneer mode with private resources, this model is still closed and isolated and not displayed in the public and community playgrounds.
However, the connection of the sculpture camp with an art space like Flamingo Dai Lai is not very strong today. To satisfy the passion for sculpture arts, sculpture activities have mainly taken place in small groups or individuals with enough resources to implement ideas rather than projects organised and run by the State management agencies.
The trend of artists self-organising exhibitions to display sculptures in their own space and finding spaces to place sculptures have been developed. The space of architect Phan Phuong Dong, with the spirit of minimalist philosophy from architecture to sculpture, is one of the few architectural and sculptural spaces designed in a synchronous and transparent manner. With his view on light sculpture, sculptor Thai Nhat Minh has used light as a material to express intentions and shape.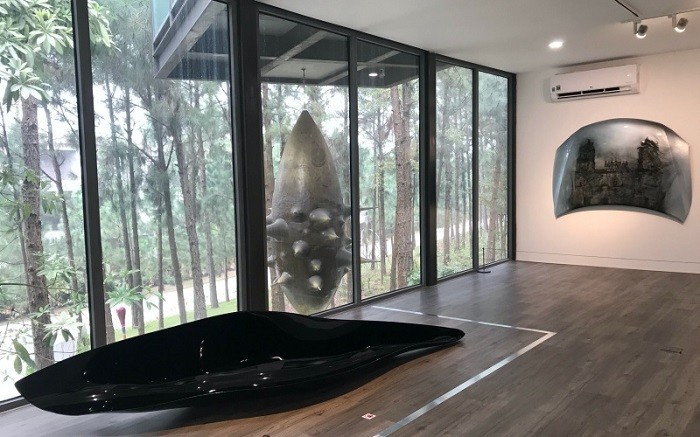 An artistic display corner in a container at the Flamingo Contemporary Art Museum. (Photo: NDO)
Some sculpture projects of art centres act as a bridge between sculptors and the public, bringing sculptures into the family space. However, the proportion of the public owning statues and clusters of statues is extremely modest because the "living space" still has many limitations for these works.
In order to have public sculptures suitable for modern urban living spaces, it is necessary to have a vision in spatial planning. There are regular cultural activities, projects and events that can bring sculptures to public space, but this problem has always hindered their success.
Another barrier is the specificity of the sculpture as this art form need a place to promote the values of the works and a suitable spatial context for the public to enjoy and appreciate the works.
The introduction of sculptures into urban space is a long-term process. In addition to financial resources and social awareness, the enhancement of aesthetic awareness and accessibility to contemporary sculpture arts also need to be improved.
Meanwhile, the exhibitions and creation camps are the platforms for the sculptures to reach the public. To have a professional environment, professional works, and authors, it is necessary to have a competent management team, a directional long-term vision, and professional curators to coordinate and lead the programmes.
In addition, a mechanism is needed for socialising art activities and connecting businesses, organisations, and individuals with great experiences, artistic expertise, and ability to organise exhibitions and participate in the selection process of high-quality works.
With the harmonious balance between strong creativity and limited exhibition space, the path of sculpture will be brighter with the right route. Sculpture art will reach the public and bring its value into full play. It is hoped that there will be legacies for sculpture art as well as fine arts in general.