Meeting with Chairman and CEO of CJ Group Sohn Kyung-shik in Seoul, President Phuc highly valued the firm's realisation of its investment commitments in the fields of food and animal feed production, biotechnology, logistics, and culture in Vietnam. It currently has 24 subsidiaries operating in eight main sectors in Vietnam, earning 1.5 billion USD in revenue, rising 10-fold over the last 10 years.
He asked CJ to continue expanding investment in Vietnam, turn the country into its global production and business centre, move its Southeast Asia headquarters to Vietnam so as to optimise opportunities generated by the free trade agreements (FTAs) to which Vietnam is a party, and actively distribute Vietnamese goods to global markets.
Sohn noted over the past years, his group has implemented the commitments on clean food production and biotechnology, turning Vietnam into the third largest among its 30 markets around the world.
In the time ahead, the country will become the production and business centre of CJ in Southeast Asia, he added.
Talking to Chairman of Lotte Group Shin Dong-bin, President Phuc affirmed that Vietnam always creates conditions for this enterprise to increase its presence and continue operating successfully in Vietnam.
He welcomed Lotte's launch of a major urban project in Ho Chi Minh City last September and preparation for opening Lotte Mall Tay Ho in Hanoi in August 2023.
He asked the group to consider investing in a modern trade centre and residential area in Long An province, adding that agencies and localities of Vietnam will coordinate with Lotte to ensure harmonious interests between the two sides.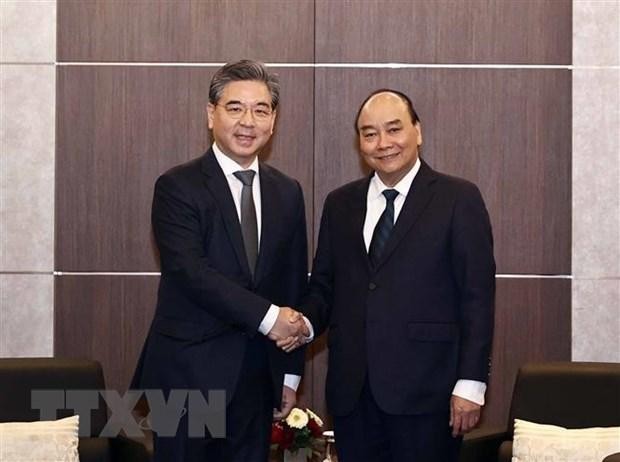 President Nguyen Xuan Phuc (right) receives CEO of Hyundai Motor Chang Jae-hoon in Seoul on December 5. (Photo: VNA)
He welcomed its investment in electric vehicle manufacturing in Vietnam, saying that he will assign ministries and sectors to consider tax and infrastructure support policies and encourage the use of e-vehicles in the country. The President also called on Hyundai Motor to make strong investment to turn Vietnam into its regional and global centre in the auto industry.
Chang expressed the firm's intention to expand investment in e-vehicle production to serve not only the Vietnamese market but also Asia.
Meanwhile, President highly valued GS E&C Corp.'s practical and effective contributions to infrastructure development in Vietnam, asking it to continue expanding cooperation and investment in green energy, environmental protection, climate change adaptation, and infrastructure, especially transport, urban, healthcare, energy, and digital infrastructure.
Vice Chairman and CEO of GS E&C Lim Byeong-yong informed the leader of some important projects his company is implementing in Vietnam, noting that it is working hard to carry out some new residential areas in Vietnam and develop a system of international schools to improve educational infrastructure in the south of Ho Chi Minh City.
Talking to President and CEO of Doosan Heavy Yeonin Jung, President Phuc highly valued the enterprises' manufacturing of heavy-duty equipment in Vietnam and asked it to join the country in creating green and clean energy solutions and realising the sutainable development goals.
Vietnam welcomes Korean businesses, including Doosan, stepping up renewable energy development in the country, he added.
Jung said his firm is shifting its investment from coal-fired thermal power to renewable energy to produce electricity. It is applying the RoK's advanced wind power model to Vietnam, cooperating with Vietnamese partners to develop green energy sources, and sharing experience with the Vietnamese side so as to obtain the best interests together.
Also on December 5, President Phuc received a group of Saigontel's partners led by Lee Kang-hoon - President of the Korea Overseas Infrastructure and Urban Development Corporation (KIND) under the RoK's Ministry of Land, Infrastructure and Transport, along with a group of Dat Viet/Kocham partners