Hai Lam, a Nhan Dan Newspaper reporter, joined his friends to conquer Pu Ta Leng Peak in a day full of clouds and fog, which added more charm to the miraculous beauty of the old forest.
There are many routes to the top of Pu Ta Leng, but Lam's team decided to depart from Ho Thau Commune, Tam Duong District, about 20km from Lai Chau City.
Trekking routes leading deep into forests like this require a local guide. A Trang, a Dao ethnic man, was the tour guide of the team. A Trang led the team along a small path lined with reeds on both sides, then passed a small village which is home to only about twenty households.
The first hour passed quite smoothly. However, the next hours came with considerable physical and mental challenge as the path became smaller and bumpy, with so many steep slopes that the backpackers had to cling to the roots of trees to move forward.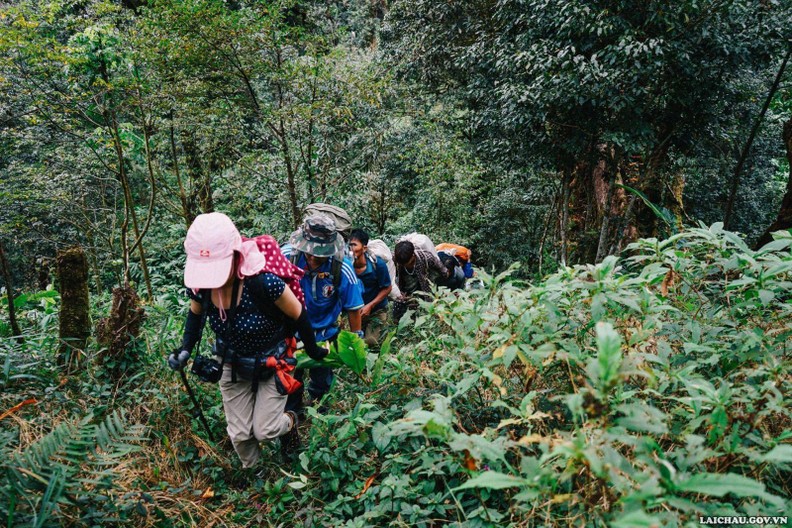 Visitors passing through an ancient forest during their trek to Pu Ta Leng Peak (Photo: laichau.gov.vn)
Their efforts were rewarded with the overwhelming sight of fresh green with many wildflowers blooming and the air filled with a strong scent of cardamom. At an altitude of about 2,000m, they passed through an ancient forest where every tree has grown to an impressive size with huge roots on the ground and their trunks covered with orchids and lichens.
The sunlight sparkled through the leaves, but it was not strong enough to lift the thick fog from the forest, making the scene shimmer in an even more fanciful manner.
At night when the temperature lowered, people sat close together by the fire. Although it seemed that there was nothing but silence, when we listened carefully, we could catch many interesting sounds of night life.
The next morning, despite having to wake up early, everyone felt excited to trek for another three hours to the summit of Pu Ta Leng.
The sky was clear and blue. At some stops of the journey, the team could see many other peaks rising above the sea of clouds.
At an altitude of 3,049m, the steel pyramid marking the peak of Pu Ta Leng Mountain was the final destination that every mountain climber wants to touch and take pictures with.
In that moment, Lam felt that the entire hardship of whole journey is worth the effort and began thinking of the target for his next trip.