The festival will take place from December 8 to 11 at Nguyen Hue Pedestrian Street, District 1, and Thu Thiem 2 Tunnel Park, Thu Duc City, Ho Chi Minh City.
The 2nd Ho Do (HOZO) International Music Festival 2022 features the participation more than 250 artists from the Republic of Korea, the UK, France, Spain, India, and the US along with Vietnamese singers.
Within the framework of the festival, a contest named "HOZO Talent Contest" with the aim of finding talented young Vietnamese music groups, in-depth seminars on the music industry, as well as exhibitions on the culture and entertainment industry will be held.
2022 Ho Do International Music Festival will also organise music composition workshops for children and a Children's Music Festival with the presence of a Grammy-nominated artist for this genre of music to contribute to solving the reality of the lack of missing songs for children in Vietnam, promoting a very narrow but urgent segment of our country's music today.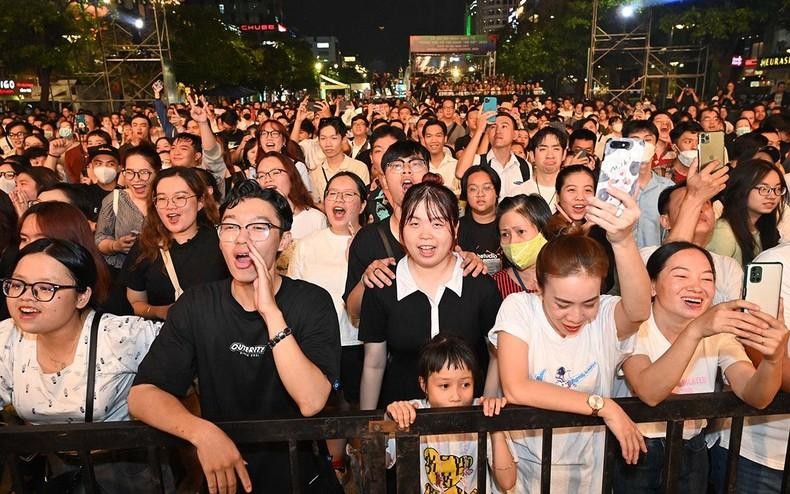 A large audience came to watch the show on the opening day. (Photo: QUOC THANH)
The festival also features many activities, such as music performance, camp, food street, an art zone for artists with daytime art classes, and many experiences and physical activities for children and families.
Pham Minh Toan, Director of Vietfest and the 'HOZO' 2022 Project said that the festival is a project with humanistic meaning. The festival creates a space to experience multi-national musical identity, expanding the musical range for domestic and international audiences and tourists while providing a space for community cohesion through many attractive activities.
Speaking at the opening ceremony, Phan Thi Thang, Vice Chairwoman of the Ho Chi Minh City People's Committee, affirmed that the 2022 Ho Do International Music Festival has a larger scale and more diversity than ever before. The purpose of this event is that the city wants to bring Vietnamese music into the modern flow, take music as an ambassador to connect Vietnamese culture, and implement the strategy for the development of Vietnamese cultural industries, Thang said.
HOZO 2022 and Ho Chi Minh City Hot Air Balloon Festival boasts the model of a "festival within a festival".
These are also the main major events of the Ho Chi Minh City Tourism Week from December 5 to 11.