Recently, An Thuong pedestrian street and night market in My An Ward, Ngu Hanh Son District, has utilised online payments by scanning QR codes and using e-wallets. This is a street with a large number of foreign tourists staying, travelling and experiencing food. Many food and beverage shop owners on the street said that the non-cash payment has created a new and modern look for the street in the eyes of tourists, especially foreigners.
Dang Thi Ni Na, owner of a restaurant on the street, said her restaurant has used online payments for a long time. About 80% of shoppers scan QR codes for payment. "As a street welcoming a large number of foreign visitors, the non-cash payment is very convenient and safe", added Ni Na.
Travelling and enjoying food at An Thuong night market, Robert, a British tourist, and his family were very pleased with scanning QR codes for payment.
Bach Ngoc Hai, Chairman of My An Ward People's Committee, said that the urban infrastructure of An Thuong Street has been upgraded to serve tourism. The application of online payment aims to create favourable conditions for tourists and modernise services in tourism. Currently, the street has more than 150 business households. Previously, the ward had propagated and encouraged people to effectively implement the cashless street model. The locality is continuing to improve this model to soon achieve the goal of 100% of business establishments in An Thuong Street providing non-cash payments.
In Hoa Vang District, Tuy Loan night street was established and put into operation by the end of 2020, with 100 stalls providing diversified products, aiming to become a new tourist product in the western part of the city. According to the Management Board of Tuy Loan Market, currently, 250 out of 570 business households in the market have bank accounts and use smartphones and Internet banking for non-cash payment transactions. The market management board is continuing to promote the coordination in installing the apps for the remaining small traders.
At the end of July 2023, the Hoa Vang District People's Committee launched the model of a "Cashless payment market" at Tuy Loan Market and signed the implementation agreements in 11 communes. Hoa Vang District has provided investment in a free fibre optic internet system at Tuy Loan Market, with seven high-speed wifi lines, contributing to promoting non-cash payment activities at the market, including e-payment between small business households and people, in a convenient and fast manner.
Standing Vice Chairman of Hoa Vang District People's Committee Nguyen Thuc Dung said, that the launch of the "cashless payment market" model and the signing of contracts for the implementation of this model in the communes, is an activity that creates a strong transformation and encourages people to use non-cash payment methods, contributing to speeding up the process of developing and implementing a digital transformation plan in the district, towards giving people a better experience of a modern payment method, with the motto of "Cashless: one change, thousands of good things".
In January 2023, Da Nang City People's Committee issued a document requesting departments, agencies, agencies, units, and People's Committees of districts to speed up the implementation of Decision No. 1813/QD-TTg, on approval of a project on developing non-cash payment in Vietnam for the 2021-2025 period. Accordingly, the City People's Committee requires departments, agencies, People's Committees of districts and public service providers to strengthen propaganda among people to use non-cash methods in payments for public services, taxes and insurance.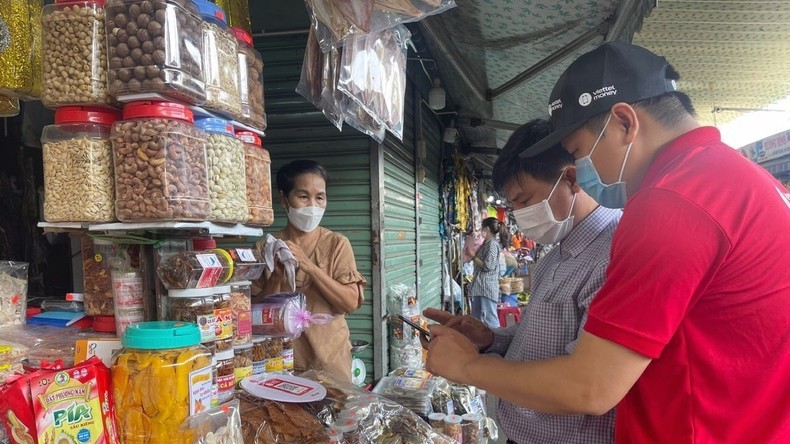 Small traders in the markets around the City have deployed the Market 4.0 application, so that customers do not need to use cash.
Implementing this policy, the Da Nang City Department of Tourism has issued a plan to implement the "project on the development of non-cash payment in the tourism industry during the 2023-2025 period". Da Nang's tourism industry set a target, that by 2025, 100% of tourism service businesses in the city will disseminate the State's guidelines and policies on non-cash payment and 100% of tourism service businesses will apply one or more non-cash payment methods, such as scanning QR code, VNpay, card swipe by POS machines, Internet banking, Mobile banking and direct transfer from ATMs. In addition, service beaches and tourist service business households in areas under the management of the Son Tra Peninsula Management Board and tourist beaches around the city will make use of non-use payment means, to become a habit of people and tourists.
Da Nang has cooperated with the Military-run telecommunications group Viettel, the Vietnam E-commerce Association and companion units such as Mobile Service Joint Stock Company (Momo wallet) and local banks, to implement the cashless street project. Up to now, Da Nang has been implementing the "Market 4.0" model in several large markets including Han, Con and Dong Da Markets, as well as encouraging small traders and consumers to apply non-cash payment methods.
In 2023, Da Nang actively developed many cashless payment streets in the central areas such as Nguyen Van Linh, Tran Van Tru and Nguyen Huu Tho Streets, Huynh Thuc Khang Street specialising in breakfast, An Thuong pedestrian street, and Tuy Loan Market.
The simultaneous formation of many cashless streets in Da Nang City aims to satisfy residents and visitors in the process of digital transformation and building a smart city. These are solid foundations for Da Nang's tourism industry to realise its digital economic goals.