The information was released at a conference held in Hanoi on October 3.
'Mo' is a unique intangible cultural heritage of the Muong ethnic community. It is a type of folk rite practised at funerals or rituals of the Muong people. 'Mo Muong' reflects the ancient Muong people's perception of the world and their social life.
According to research, 'Mo Muong' is now practised in six cities and provinces across the country, including Ninh Binh, Phu Tho, Son La, Thanh Hoa, Dak Lak and Hanoi.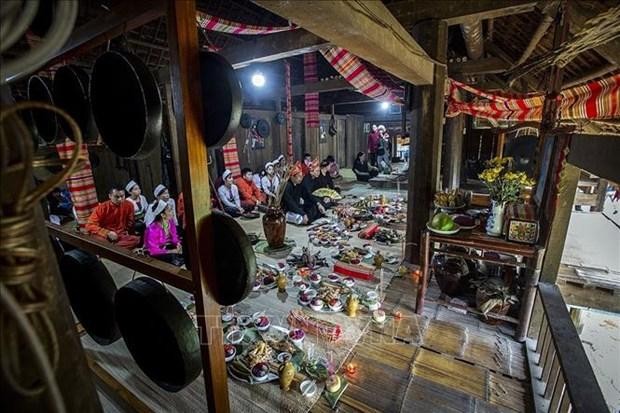 An overview of a 'Mo Muong' ritual (Photo: VNA)
Muong ethnic people live in all 30 districts of Hanoi, but most of the popularity resides in Thach That and Ba Vi districts. Mo Muong is practised in Ba Trai, Van Hoa and Yen Bai communes (Ba Vi district), Dong Xuan commune (Quoc Oai district) and Yen Thanh commune (Thach That district).
It is estimated that seven shamans in Hanoi have regularly practised 'Mo Muong'. The oldest is 86-year-old Dinh Cong Sinh from Ba Trai commune, Ba Vi district while the youngest is 26-year-old Dinh Xuan Nam from Tien Xuan commune, Thach That district.