This is the 5th time that all 10 ASEAN countries have collaborated, to promote each country's people, culture and traditional cuisine, to the Australian public.
At this event, Vietnam displayed cultural publications, commercial products, souvenirs, and tourist information, as well as promoted the 50th anniversary of diplomatic relations between Vietnam and Australia (1973-2023).
Visiting Vietnam's booth, many visitors were very interested when participating in surveys, sharing knowledge about Vietnam and being given small Vietnamese souvenirs.
In particular, an Ao Dai performance by Vietnamese students, contributed to honouring the Vietnamese traditional long dress in particular and Vietnamese culture in general, which was warmly received by the audience.
The 25th Canberra Multicultural Festival, being held from February 17-19, was resumed after a 2-year hiatus due to the COVID-19 epidemic, promoting the multicultural beauty of communities in Australia.
The festival attracted 300,000 attendees, with nearly 500 booths of organisations, embassies and community groups, representing 170 ethnicities in Australia.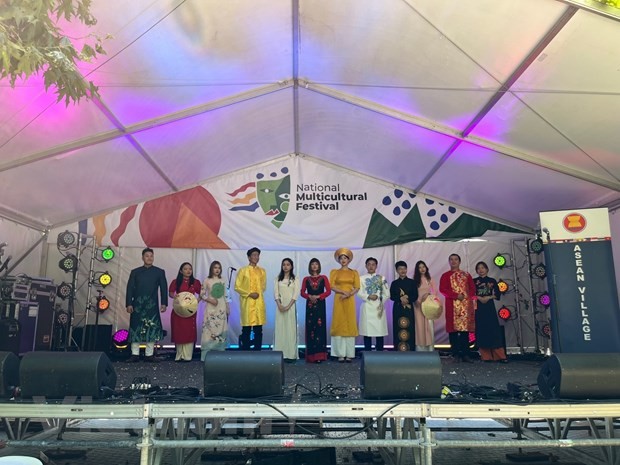 An Ao Dai performance by Vietnamese students at the event (Photo courtesy of the Vietnamese Embassy in Australia)