A colourful space of the arts
On September 1, tens of thousands of Hanoians and visitors flocked to the streets to enjoy the pedestrian space around Hoan Kiem Lake in central Hoan Kiem District. Hanoi desires to turn its walking area into a special space, introducing visitors to a capital city full of arts and culture, from traditional to contemporary styles, while creating a push for the city's tourism sector.
"We believe that the unique culture of Thang Long (Hanoi's former name) along with its diverse culinary and artistic features amidst the current lifestyle will meet the needs of healthy cultural activities and entertainment for Hanoians, as well as domestic and foreign tourists," Chairman of the Hanoi People's Committee Nguyen Duc Chung said while speaking with locals at the walking space.
To Van Dong, head of Hanoi's Department of Culture and Sports, revealed that many art and cultural activities would be brought to the new walkways, such as traditional music performances at King Ly Thai To Garden and traditional folk music performances such as Xam, Xoan and Ca Tru at Ngoc Son and Ba Kieu Temples.
Traditional music performances on one of Hanoi's pedestrian streets.

In addition, the MyHanoi team has organised a range of activities and folk games for children and teenagers in front of Cam Tu (Self-sacrifice) Monument, while a street circus and lighting arts performances are to take place around the Dong Kinh Nghia Thuc Square and artwork and photo exhibitions held in areas adjacent to Trang Tien Trade Centre. On major holidays, at No. 16 and No. 2 Le Thai To Street, there are contemporary cultural and arts performances.
Chairman Chung confirmed that the trial period for the walking streets around Hoan Kiem Lake commenced on September 1 from 7pm on Friday to 12am on Monday. In addition to that, to attract tourists, during the pilot period Hanoi also allows hotels of 3-stars and above, restaurants and bars operating in Hoan Kiem District to open to services until 2am over three days each weekend. The city prohibits all entertainment activities after midnight, however, many foreign visitors rated nightspots as "specialties" of Hanoi, therefore, in the near future the city will lift this ban, Chairman Chung affirmed.
A measure to facilitate Hanoi's tourism
According to statistics, in 2015 the number of tourists to Hanoi reached 20 million, including over 3.2 million international arrivals and 16.4 million domestic visitors. Its tourism sector recorded an annual growth rate of around 15%.
However, Hanoi's tourism has been rated as monotonous and lacking in recreational facilities while services have been rated as below par. Therefore, the number of tourists staying in Hanoi is still at a low level, as the city's tourism has not been overly successful in appealing to visitors nor has the city seen many return visitors. For that reason, the removal of "curfew" provisions in Hanoi after midnight has gained consensus from the public as a measure to facilitate Hanoi's tourism development.
Not only a colourful space of the arts, the new pedestrian routes also lay a positive impact on the lives of local people. As restaurants and bars will be open until 2am, they have more opportunities to earn additional income, while tourists have more time to visit the Old Quarter and discover Hanoi with no concern about the curfew as before.
Foreign tourists enjoy Vietnamese tea at Hanoi's pedestrian zone.

This is a practical and effective solution to extend the length of stay and increase the average spending of tourists, while promoting tourism product development, head of Hanoi's Department of Tourism Do Dinh Hong said.
The head of the capital's tourism sector added that visitors to Hanoi from Europe or North America that have different time zones with Vietnam will enjoy the extended late night hours. After going out for late-night dinners, tourists from such countries usually do not want to return to their hotels but go out to entertainment spots to enjoy the nightlife with friends. The ban after midnight makes them feel that nightlife and tourism services in Vietnam are unable to meet their needs.
This is one of the reasons that have led to Hanoi's tourism products in particular and Vietnam's in general becoming monotonous and not particularly attractive to tourists, especially compared to other cities in the region such as Bangkok, Singapore and Manila, Hong said.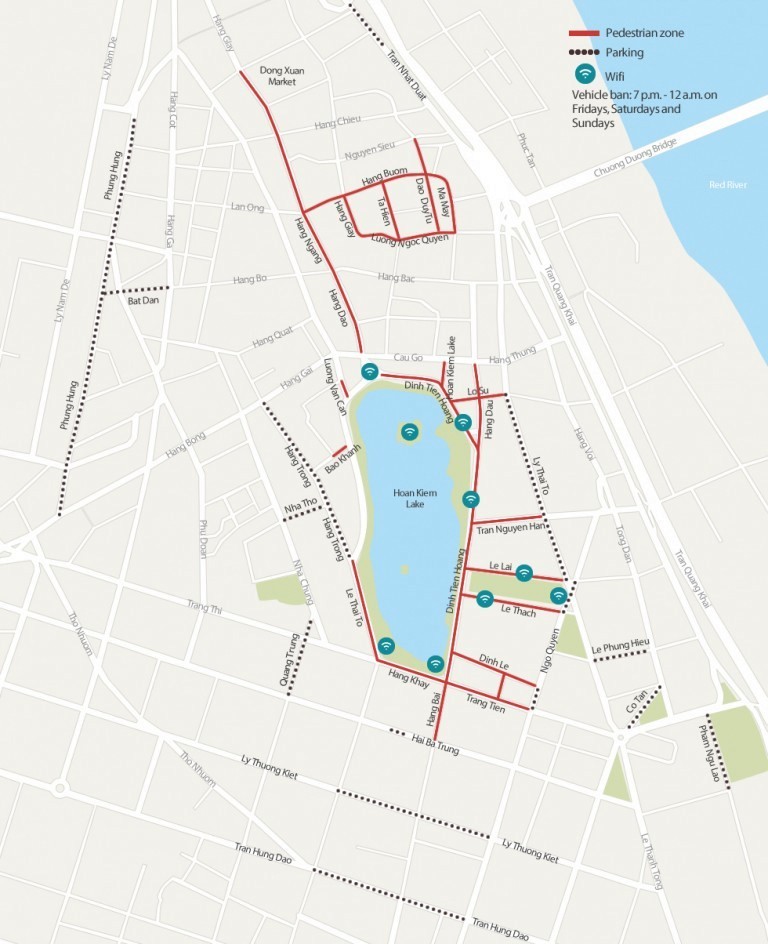 The pedestrian zone around Hoan Kiem Lake which has been put into trial since September 1.
Since September 1, Hanoi has organised a walk space covering main streets around Hoan Kiem Lake, including Dinh Tien Hoang, Hang Khay, Le Thai To (a half of Le Thai To Street on Hoan Kiem Lake's side, stretching from Hang Trong to Hang Khay Streets), Le Lai (from Dinh Tien Hoang to Ly Thai To Streets), Le Thach, Tran Nguyen Han (from Dinh Tien Hoang to Ly Thai To), Dinh Le, Nguyen Xi, Trang Tien (from Ngo Quyen to Hang Bai Streets), Lo Su (from Dinh Tien Hoang to Nguyen Huu Huan Streets), Hang Dau (from Dinh Tien Hoang Street to Cau Go Streets), Hoan Kiem Lake Street, Luong Van Can (from Hang Hanh to Le Thai To Streets), Hang Bai (from Hai Ba Trung to Hang Khay Streets), and Bao Khanh (from Bao Khanh Lane to Le Thai To Street).
Previously, Hanoi ran a pilot for pedestrian streets on Hang Dao-Dong Xuan route since 2004, along with walking spaces covering Hang Buom, Hang Giay, Luong Ngoc Quyen, Ma May, Dao Duy Tu, and Ta Hien Streets.
Attractive night-space luring more tourists
As someone who often enjoys walking around Hoan Kiem Lake, Nguyen Anh Quan from Dong Da District said he supported the policy to turn streets around the lake into pedestrian routes each weekend. Quan said that the expansion would help open more spaces for tourists to visit Hanoi and facilitate its tourism development.
Nguyen Thanh Hai from Bac Giang Province said that the policy was suitable in attempting to build a clean and green Hanoi, while helping ease traffic flow and creating more chances for tourists to enjoy Hanoi's lively atmosphere.
Sitting on a bench next to the King Ly Thai To Monument, Tran Thuy Linh from Tay Ho District, while wiping sweat from her little daughter's face and pointing toward the playground at the foot of the monument, said "I just played with my daughter there. We joined a tug of war earlier. We are tired but my daughter is very happy. Before I thought that only in my hometown in the countryside, could she play in such delight."
As for foreign visitors, having space to walk around Hoan Kiem Lake and especially with the lifting of the ban on entertainment activities and services after midnight is "absolutely awesome".
Samantha Hart, a US female tourist, who spent two weeks in Hanoi, said: "I've never seen such a great night-space like this before. Great food, friendly people and the night-time scenery are great. All these things ensure that I will not be returning to my hotel before midnight, but on the contrary, I will have more time to enjoy the exciting atmosphere of the city."
A foreign visitor plays 'O an quan' (mandarin square capturing), a traditional Vietnamese children's board game, with children in the area of Ngoc Son Temple.

Sarah Baldwin from the UK highly praised the idea to open walking streets around Hoan Kiem Lake, as the areas during the weekdays are always crowded and sometimes dangerous. She said that the pedestrian streets would ensure safety for her while walking and sightseeing and help her to avoid the traffic.
Sarah's friend, Oliver King, said Hoi An was the first destination of the couple in Vietnam. Leaving Hoi An content with its walking spaces while shopping and relaxing, Oliver said Hanoi's promenades would be another reason for them to stay there for longer.
According to statistics, during weekends when walking streets are organised, the number of tourists has doubled compared to weekdays. On any given weekday, there are about 3,000 foreign guests in the capital. On weekends, the figure is at about 6,000, said Vice Chairman Pham Tuan Long of Hoan Kiem District People's Committee. The increased number of tourists creates employment opportunities for local people. It is also a chance to promote values of the city's heritages.
According to Long, around Hoan Kiem Lake there are many administrative offices and very few residents' homes, so when the walking streets were organised the idea to make use of space in such areas to organise community activities was entirely appropriate. The initiative was thought of many years ago and finally realising it during the pilot run was a great achievement, he affirmed.
Vietnamese folk games – "specialties" of the walking streets
"Specialties" of the walking streets are the traditional Vietnamese folk games reproduced around Hoan Kiem Lake and in front of the Cam Tu (Self-sacrifice) Monument. A variety of games, such as tug of war, mandarin square capturing, stilt walking and rope skipping, have worked to bring back childhood memories among participants and have become appealing attractions to visitors to the walking space.
The introduction of traditional games is part of a project entitled "My Childhood Memories" by the MyHanoi Group. Established in 2006, MyHanoi is one of the first clubs in the capital with in-depth activities introducing Hanoi's historical and cultural values to the youth.
Ngo Quy Duc, manager of MyHanoi, shared his intention of building the group into a non-profit organisation in the field of history and culture.
"Introducing spiritual values and restoring the old ones are what all of the members of the club are working towards and what they treasure the most," Duc said.
Nguyen Thi Thu, a member of the MyHanoi Group, noted that the folk games organised in walking streets offer another option for entertainment to Hanoian children, who lack recreational space, allowing them to really enjoy and cherish their childhood.
"Traditional games are gradually being replaced by modern games on smart phones or on the internet, and might be at risk of disappearing altogether in the world of high technology. By reproducing these games in the walking space, we want to preserve and popularise them" she said.
"Many children have been introduced to traditional games for the first time and they have enjoyed them very much. Being away from the TV or iPad, they can truly experience the simple joys of being a child" Thu added.
The 20-year-old student noted that MyHanoi has also assembled a group of volunteers who are always willing to instruct and play with those who do not know or have forgotten how to play the games.
People participate in a traditional dance named 'nhay sap' (bamboo dance) on Hanoi pedestrian streets.

The animated atmosphere of folk games has drawn huge attention from foreign visitors. Celie Frederic, a Frenchman and a teacher at the Alexandre Yersin international French school in Hanoi, could not hide his excitement while joining folk games in the walking space.
"My family has been living in Vietnam for ten years, but this is the first time I have experienced the country's folk games. It is a really interesting experience. I am very impressed by your culture," he said.
In addition to the joyful faces of young children immersed in traditional games, it is also not difficult to catch sight of the appealing performances put on by amateur circus artists and street musicians, as well as the group dances and improvised singing on the side of Hoan Kiem Lake.
The creativity and diversity of the traditional and modern features have blown a fresh breeze into Hanoi's pedestrian streets, turning the walking space into an interesting destination for the youth, local families and foreigners living in the capital.
With a positive response from both tourists and locals, it can be said that the walking space around Hoan Kiem Lake and surrounding streets has been working effectively in improving Hanoi's living environment, honouring historical and cultural heritages of the capital and meeting the recreation demand of local citizens and visitors, both at home and abroad.
Wi-Fi services available for free in walking streets
Hanoi has installed a total of 31 free Wi-Fi transmitters at 21 venues in the walking space around Hoan Kiem Lake and surrounding streets, aiming to meet the demand of being connected online of local citizens and tourists to the capital. By logging in "Freewifi_UBNDHANOI" through smart phones or portable devices and entering their mobile numbers, locals and visitors will have 30 minutes of free Wi-Fi before the system automatically logs out. If wanting to continue using the public Wi-Fi, they can repeat the same process.
The installation of free Wi-Fi seeks to help domestic and foreign tourists to Hanoi conveniently search for the information they need while coming to the capital city as a whole and its walking streets in particular, thereby contributing to facilitating services and commercial activities across the locality.
CHRIS DUNN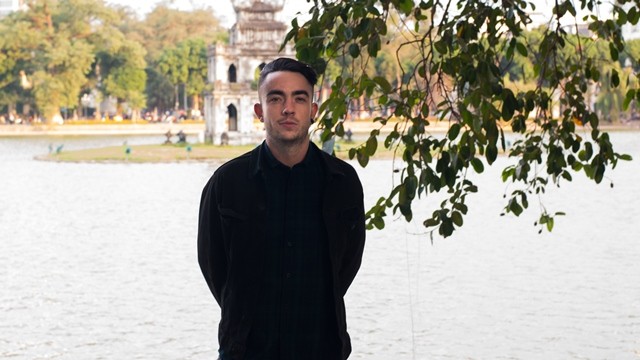 "I have been living in Hanoi for about five years now, and at first when I heard they were going to block off streets around Hoan Kiem Lake in order to open up a number of pedestrian walking streets, I was more concerned than excited. After living in the capital for so many years, I too just like every other Hanoian, have become quite accustomed to using a scooter to get everywhere, and often the thought of having to walk a few hundred metres sounds like an arduous task. But, since its opening I can see the walking streets have been a significant addition to life in Hanoi, for both foreigners and locals alike.
In my hometown, Melbourne, there are several walking streets for pedestrians and which are closed to traffic, however, most of them are to cater for shopping with the odd street performer or busker here and there. From what I've encountered so far of Hanoi's walking streets is that they appear to mainly aim to promote Vietnamese culture and arts. On any given day of the weekend one can take a stroll down to Hoan Kiem Lake and other bustling streets of the Old Quarter and check out some traditional or contemporary music, take in an art or photography exhibition, or even have the chance to view some traditional Vietnamese theatre.
This does wonders to educate people on Vietnamese culture and history, but also gets people off their motorbikes and using their legs, which is good for the environment, good for the heart and good for the soul. It is of benefit to both locals, in particular for Vietnamese children who may not have yet had the chance to experience some of these national art forms, and for foreign tourists, who can take a stroll from their hotel and be swept off their feet by wonderful Vietnamese cultural activities.
If I was to have one criticism of the walking streets it would be directed at the people who run some of the motorbike parking spaces. Often a parking attendant will try to charge me upwards of VND20,000-30,000 just to park my motorbike for a few hours. At other places it is only VND10,000. Perhaps the local council could make an effort to regulate parking fees because for some people, if they must pay such a high price for parking, it will make them hesitant to stop off for a stroll around the walking streets and instead opt to go to another part of Hanoi for recreational activities.
In summary, I would like to congratulate the local council for organising such a great venue for all people to enjoy without the threat of being stuck in traffic or fear of crossing the road. It is a nice sight when we can see people taking back the streets, walking rolling or skipping along in the streets of the Capital city".